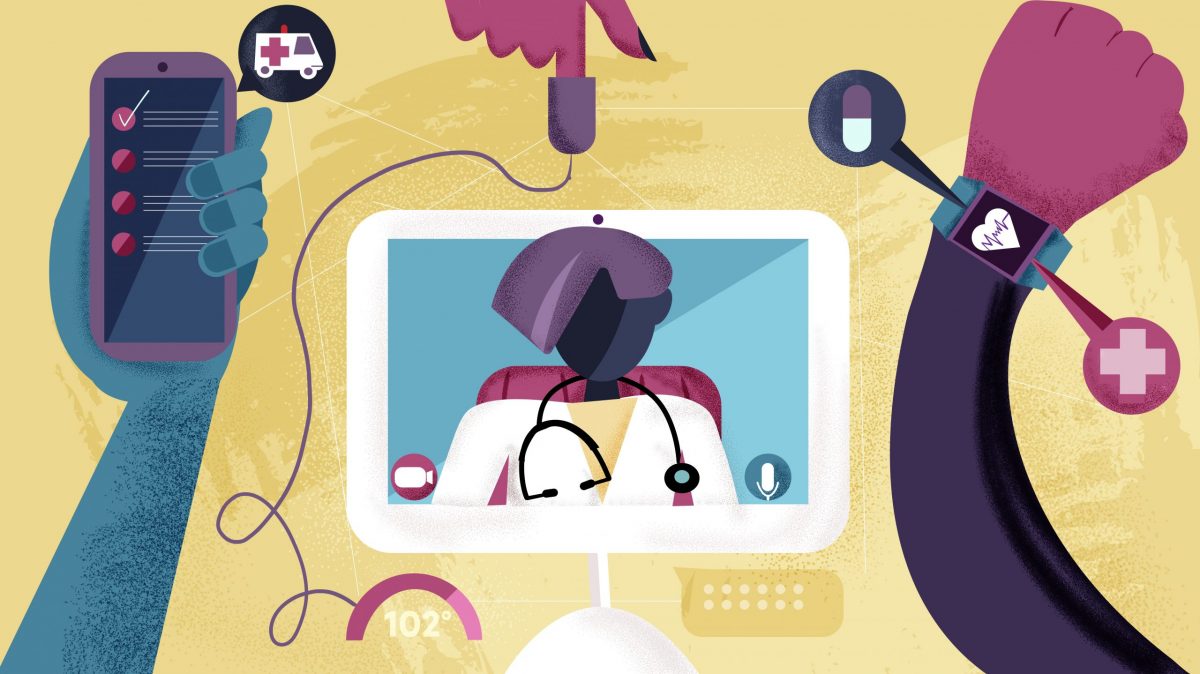 The pandemic has changed how we live and work. Public health has dominated national news. Organizations have accelerated their use of digital technologies. As successful vaccination worldwide starts to reduce COVID-19's worst impacts, life slowly returns to normal.
Melissa Fogarty, Joint Head of Corporate, London at international law firm Clifford Chance said in 2020, "Resourcefulness, dexterity and tenacity are crucial for those who will come out of the crisis in good shape."
We know physical isolation and frequent online meetings can strain employees' long-term physical and mental wellbeing. What can businesses do to ensure staff can do their best and reach their potential? Digital transformation in health and wellbeing tech may have the answer.
Kaspersky cybersecurity for healthcare
Secure healthcare
Kaspersky's cybersecurity package tailored for the healthcare industry.
The consumer wellbeing tech and healthcare divide
"The world's largest single source of digital health compliance" ORCHA assesses and accredits the growing number of healthcare mobile apps.
Recent consumer wearables like Apple Watch collect clinical-grade data useful for diagnosis and preventative healthcare. But at a recent Nordic Healthcare Conference, ORCHA's Chief Operating Officer, Tim Andrews, said, "Whilst there's been huge interest in digital health, this is often not matched with adoption and usage, particularly in areas that impact healthcare systems. The opportunity perhaps missed most often is the ability for digital health to be embedded into healthcare systems."
Andrews seems to be suggesting health devices and mobile apps aren't yet a big part of public health services, but should be. I think there are two main reasons for this. First, data privacy and security: If personal health data gets into the wrong hands, it may lead to misselling of health services and insurer or employer discrimination. Second, possible litigation against developers of health and wellbeing devices and apps, around classification as a medical device and eligibility to be prescribed by medical practitioners.
Artificial intelligence (AI) is increasingly part of public health triage and medical advice, online or over the phone, but wearable devices and mobile apps rarely give medical advice.
Devices like Fitbit give real-time access to vital signs, but most refer you to web links when it comes to what you should do. In the future, I think we'll see devices and applications with embedded AI linked to cloud-based services capable of early preventative healthcare interventions.
Telehealth and privacy
COVID-19 has changed our perceptions of healthcare data privacy. Before the pandemic, it was inconceivable for democratic nations to use track and trace technologies to monitor citizens. Although still contentious, it's meant acceptance of telehealth as a way of protecting others.
Back in 2014 in the American Medical Association Journal of Ethics, Timothy Hale and Joseph Kvedar, said, "Concerns about the privacy and security of telehealth systems may adversely affect people's trust in telehealth and threaten the ability of these systems to improve the accessibility, quality and effectiveness of healthcare… but many people, especially the chronically ill, believe the benefits of telehealth outweigh the risks." They recognized that it's in the interests of all health stakeholders, from patients to employers, insurers to healthcare professionals, to use and encourage use of healthcare technologies.
Wellness tech and preventative medicine
Employers want healthy, motivated staff. Employee benefits packages often include private health insurance, which may attract employees, but don't usually include preventative healthcare.
Staff ill-health, absences and reduced performance are a massive cost burden. The US National Center for Chronic Disease Prevention and Health Promotion estimates 90 percent of the nation's associated 3.8 trillion US dollar costs are from mental and chronic health conditions.
Also back in 2014, Sir Simon Stevens, former Head of UK's National Health Service (NHS) called obesity a "slow-motion car crash." He suggested we need new interventions to promote healthy eating and lifestyles to avoid serious health and financial problems in future.
Sir Stevens recommended incentivizing employers to provide workplace health programs. I foresee these incentives as digital ecosystems built around win-win relationships between health stakeholders like employers, insurers and public health services.
We're seeing moves in this direction. Singapore's Health Promotion Board launched its National Steps Challenge, giving away free step-tracking watches. Its Ministry of Health Transformation Office started Mindline, an AI-enabled portal offering tailored support with mental wellbeing. Mindline helps users identify and get help for underlying problems like domestic violence and financial strain, and gives healthy living advice alongside options for medical and talk therapies.
Another example of a win-win ecosystem using technology and gamification is insurers like Vitality Life offering an Apple Watch to customers with benefits linked to healthy living data.
How to use wellness tech in the workplace
I see two main ways businesses can use health tech to give employees lifelong benefits and their business immediate results in reduced absenteeism and greater engagement.
Telehealth devices and gamification are a win-win
Telehealth devices include wearable tech that tracks health patterns, giving early warning of problems and advice. Rather than tracking employee health directly, HR departments can offer telehealth devices and apps with training as part of the benefits package: A win-win digital ecosystem. By working with health insurers and organizations like ORCHA, they can also help shape the lifestyle behaviors behind obesity and other chronic, avoidable conditions.
Using gamification (game-orientated) strategies like those used in mobile apps can encourage employees to set health targets and form teams competing for the best improvements. Here are some good examples of the benefits of wellness gamification strategies.
Italian games specialists Imaginary pioneered wellness technology within 'serious games.' Their flagship rehabilitation product Rehability helps people who've had strokes and other debilitating conditions recover at home under a clinician's remote supervision. It reduces the costs of care and, through gamification, encourages patients to comply with the clinician's advice, shortening their recovery times. Solutions like Rehability could be part of corporate health packages, helping staff improve physical and mental health at home or supporting recovery from conditions like Long Covid.
Immersed in digital therapeutics
Digital therapeutics involves using technology to give therapy for physical and mental health. It helps avoid or reduce the need for medication or surgery, and empowers people to manage their own health.
There's growing use of virtual reality (VR) for stress management and treating other mental health problems. Organizations are starting to use VR headsets or other immersive technologies like 360-degree projectors to offer employees chill-out space.
Spanish company BroomX pioneered affordable 360-degree projectors that have many uses, including digital therapeutics. Although originally designed for cultural and educational sites like schools and museums, research suggests immersive experiences may benefit mental health. At the 2021 Mobile World Congress in Barcelona, Broom X and hospital partners discussed how they've used immersive mindfulness therapies in hospitals to treat and prevent staff and patients with mental illness.
What corporate leaders should do next
Organizations wanting to harness the power of health tech for their employees have many ways to add physical and mental wellbeing technologies and apps to their people management strategy. What's right for each business comes down to their circumstances and what their people want.
It's a fast-moving, high-growth area. Leaders must choose the right partners when selecting technologies for employee benefits packages. Big technology players like Apple, Google and Samsung are pitching hard with new devices and applications. The many health and wellbeing mobile apps available can feel like a jungle to navigate. It's worth discussing options with organizations like ORCHA that are there to evaluate independently.
Organizations with an ethos of preventative healthcare, using technology and gamification to add value to their employee experience may see benefits in competitive advantage alongside healthier, more productive and motivated staff.