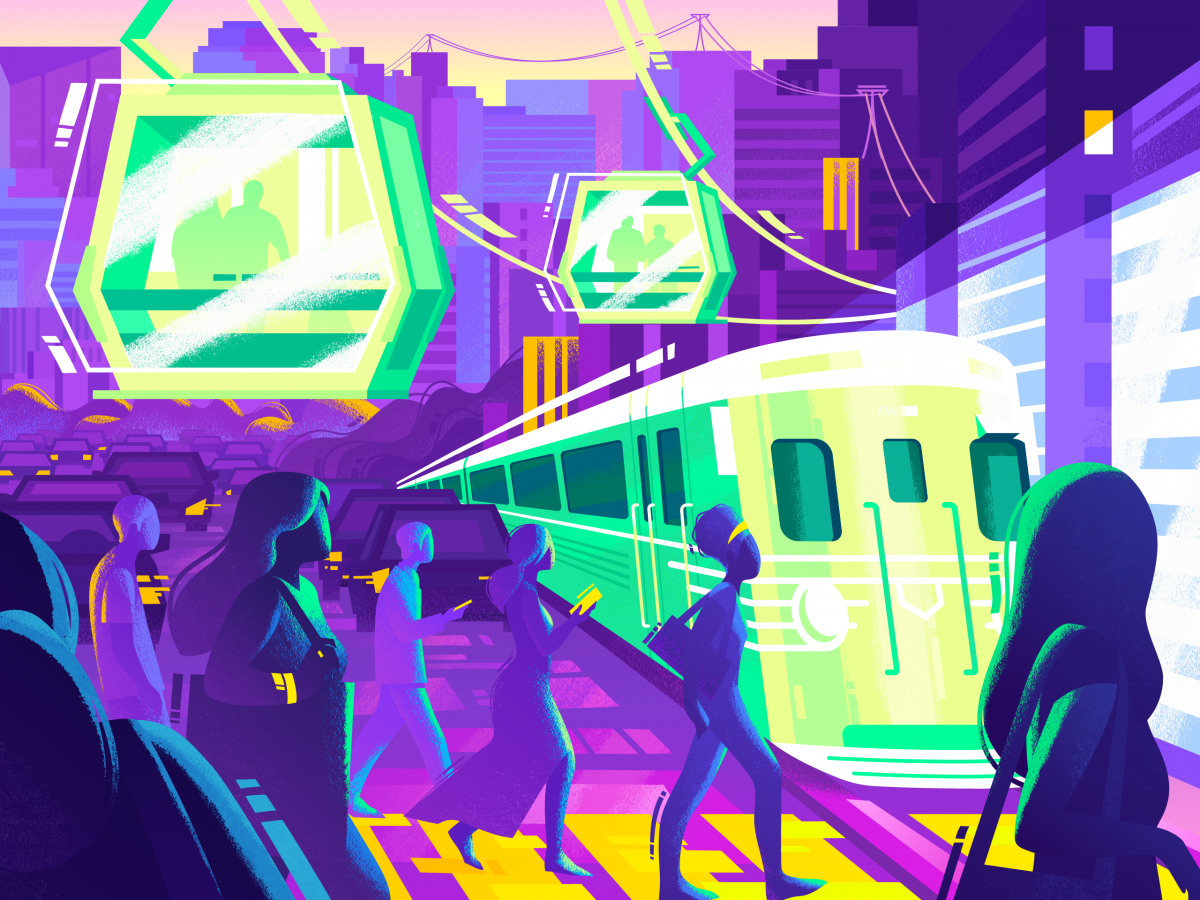 1960s US children's cartoon The Jetsons, set around a family living in the year 2062, did amazingly well at predicting many technologies we have today. Its difficulty in seeing past the values of mainstream 1960s America is more amusing. The family revolves around a bread-winner patriarch, his ditzy wife, fashion-obsessed daughter and whiz-kid son. And they all get around in a private, although flying, car that belches smoky exhaust.
But even The Jetsons didn't fantasize escaping roads would mean escaping congestion. Clogged, chaotic 'skyways' are now a mainstay of science-fiction dystopia. In the iconic '90s blockbuster, The Fifth Element, taxi driver Bruce Willis cuts a recognizable figure with his roadless road rage.
Are we doomed to a future of inefficient, alienating and polluting transport? I don't believe so. I'll share a couple of exciting developments in sustainable public transportation. But first, why does it matter?
Is your future going somewhere?
Secure Futures
Keeping you riding the rails of new technology.
The cost of laying down the red carpet for cars
Today's urban planners agree the mid-to-late 20th-century trend for building cities around the idea everyone should have a private car was a mistake.
The infrastructure thinking that dominated the 1950s to 1980s ultimately forced people to drive cars by creating conditions that made public transport, walking and cycling unattractive. It brought concrete jungles, congestion and ever-growing distances between homes, workplaces and facilities.
And it was a downward spiral – as more people became reliant on their car, public transport became less efficient and affordable.
While private cars are brilliant for disabled people, families with small children and people living in remote areas, when everyone relies on them, it's a problem. Conversely, where we see efficient, affordable public transport, we also see better health, greater social mobility (meaning people can more easily escape poverty) and reduced traffic accident-related injuries and deaths. A 2020 report by the US's Economic Development Research Group found investing in public transport gives a 5-to-1 return through, for example, job creation, productivity and tax revenue.
That's before considering humanity's biggest threat: Climate change. Even when powered by fossil fuel, a trip by bus instead of a car means an over six times reduction in emissions. Moving people (or freight) by rail is even more energy-efficient. That's before converting bus and train fleets to run on electricity or hydrogen, as many cities are now doing.
We must look at public transport, cycling and walking as priority means of transportation in the future, but it might not be a return of the transport options our grandparents knew. The future of public transport might evoke more utopian science fiction imaginings.
Taking to the sky on a cable
In recent years cities in Central and South America have chosen to build aerial tramways, also known as gondolas or cable cars, because of their advantages over options like light rail and buses. Among other things, they're fast to build, have an excellent safety record, and the terrain is no object.
In Medellín, Columbia – once described as "the most dangerous city on earth" for its cartels and drug barons like Pablo Escobar – many credit cable cars with turning the city around. Lonely Planet says Medellín is now "one of the safest big cities in Latin America, with character, nightlife and public art that any urban area would envy." Locals put the success of their cable cars down to an intention to serve the residents of deprived neighborhoods rather than tourists or wealthy commuters. This is reflected not just in where the cable cars go, but in the ticket cost of less than 1 US dollar. Gondolas in Caracas, Venezuela, and Bogotá, Bolivia, may have succeeded for similar reasons.
The most high-tech aerial tramways run on three cables – two for carrying and one for pulling. Without social distancing, some can take as many as 200 people in one cabin. New combined automation and safety software allows continued operation if sub-systems fail, aiming further to enhance the gondola's existing top-notch safety record. Many now have Wi-Fi for customer use and as a safety feature.
Head of Kaspersky's Research Center for Europe, Marco Preuss, recommends caution with public Wi-Fi. "It's convenient to use local Wi-Fi in hotels, restaurants and public places, but think about who controls the network, what data you share and which websites you visit. The operator or cybercriminals may snoop on your traffic, collect sensitive data or even attack your device. Make sure work and personal devices are encrypted and use encrypted connections."
While digitalization often brings safety improvements, it also means more ways for cybercriminals to attack. In recent years attacks on critical infrastructure have increased, and cyber experts predict they'll become even more common. Mass transit organizations should see themselves as a likely target, secure all potential attack points and plan how they'll respond to a cyber incident.
Trains running on solar power
What could better highlight the value of reducing our impact on the planet than traveling through restored coastal wetland and wooded areas on an almost-silent sun-powered heritage train?
People have been able to do this in Byron Bay, near Brisbane, Australia, since 2018. "There'd been some resistance to an old diesel train operating," Byron Bay Train Development Director Jeremy Holmes told BBC World Service. "We talked about the reality of converting it to solar."
The train's restorer Tim Elderton continues, "I said, "What?!" But then I did some calculations, and actually, with the technology today, I believe we can. With the batteries, solar panels and traction motor, we made it all come together."
The train gets some of its power from photovoltaic cell panels on the train's roof, but most from panels on the station terminus roof. It uses only 27 percent of the electricity generated, so they sell the rest to the local grid.
Although the team says the technology could power a trip 15 times its three-kilometer run, that's still far from what many railway journeys must achieve. But the Byron Bay Train is part of broader solar exploration in the rail sector. Riding Sunbeams is a UK-based social enterprise supplying electricity to the rail sector from solar farms owned by commuters and the local community.
There are significant potential emissions reductions from renewable railway power. In the UK, rail is the country's single largest electricity consumer, and it's among the highest energy-consuming sectors in India. And most of the world's rail journeys are still powered by diesel.
Changing lives and technology change transport
COVID-19 laid bare the unpredictability of change in how we live our lives, and so, how we travel. Suddenly, the numbers working from home has leaped and is expected to stay far higher than pre-pandemic levels. Some areas have seen consequent falls in public transport users of up to 60 percent, putting networks at serious risk. While many authorities enforce social distancing and mask-wearing on public transport, some commuters make other transport choices if they can.
It's not the first time tragic events have changed travel behavior. Terrorist bombings on Transport for London trains and buses in July 2005 led to a daily fall of up to 32 percent in numbers using the Underground and an increase in cycling.
Ride-sharing apps like Uber and Lyft are often said to have radically changed the face of urban transport, including apparent decreases in the use of public transport in cities where they operate. Although they've started to add public transport schedules to their app in many cities, mixed statements about whether they're deliberately competing with public transport raise concerns.
Marcus Enoch, Professor of Transport Strategy at Loughborough University, says steep rises in the cost of living in cities is likely to decrease public transport use by forcing its typical younger user group to live in smaller cities and towns. As a general rule, the smaller and less dense the city or town, the less likely it will have efficient public transport. He also predicts rising transport automation levels and increasingly intelligent, personalized apps could lead to one of four possible transport futures. His least dystopian and more socially connected visions require high-density urban living to succeed – something government policy can influence.
New technology and social change bring challenges and opportunities to the hard problem of getting people around cities. In supporting sustainable, efficient transport options like public transport, cycling and walking, cities can ensure better health and economic well-being for their citizens. When transport projects aim to meet the needs of the most isolated and vulnerable people, examples like the cable cars in Medellín, Columbia, show the power of something as everyday as transport to create ripples of positive change across society.