July 19, 2017
Kaspersky Lab's Free Ransomware Tool Update for Businesses Looking for Protection
100K Businesses Have Downloaded Kaspersky Anti-Ransomware Tool for Business in the Past Year
Woburn, MA, July 19, 2017 – Today, Kaspersky Lab is introducing a new generation of its Kaspersky Anti-Ransomware Tool for Business, which was developed to deliver the latest best-of-breed anti-ransomware technology to businesses for free. The company is also reporting that as a result of increasing cyberthreats to businesses, 100,000 organizations have downloaded Kaspersky Anti-Ransomware Tool in just the last 12 months.
While the 'Global IT Security Risks Survey 2017' from Kaspersky Lab and B2B International has revealed that the total financial impact of a ransomware attack on a company can amount to $713,224 on average, this updated tool means businesses that don't 'WannaCry' about ransomware threats don't have to.
The recent WannaCry and ExPetr epidemics have proven to many businesses the crippling impact of having their files held at ransom by cybercriminals. An astounding 200,000 systems were affected by the WannaCry attack in 150 countries in May, grinding businesses to a halt and incurring staggering costs as companies fought to solve the issue and get back up and running.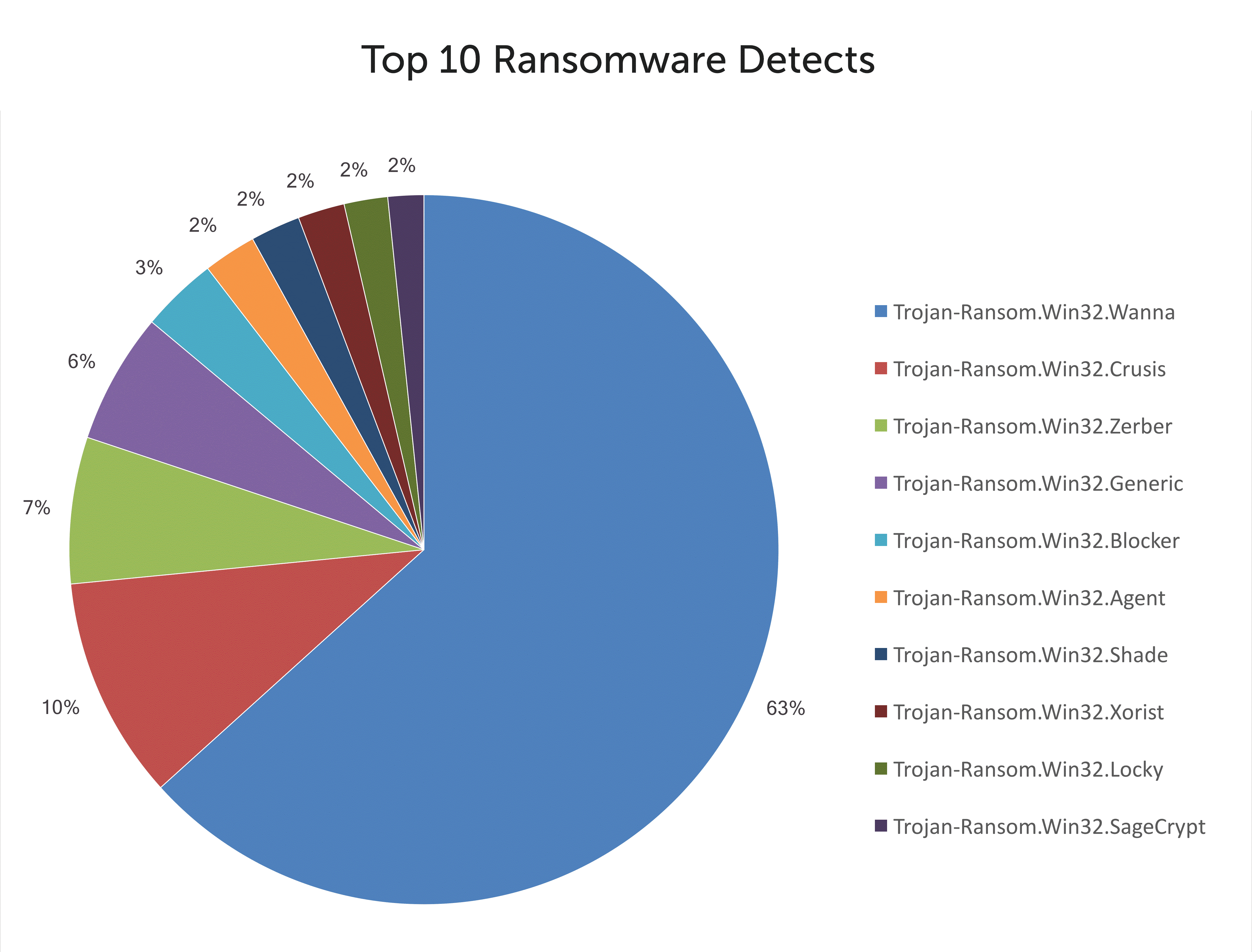 Top ransomware families detected by Kaspersky Anti-Ransomware Tool: 63% of the total ransomware detections were WannaCry
Awareness of the severity of ransomware is rising, and against this backdrop, an increasing number of businesses are now seeking to maximize their protection with minimum resources. Based on the firm's 20 years of experience at the frontline in the battle against cybercrime, the new generation of Kaspersky Anti-Ransomware Tool for Business can allow organizations to protect against ransomware for free.
Kaspersky Anti-Ransomware Tool for Business is compatible with third-party security products, easy to install, and does not require business users to have deep technical knowledge to configure and manage the software. The tool allows companies that do not use Kaspersky Lab's solutions to try advanced anti-ransomware technologies with no financial outlay. It includes Kaspersky Lab's System Watcher component, which detects suspicious ransomware activities, creates a temporary backup of attacked files and rolls back malicious changes, leaving the system unaffected. It also leverages the Kaspersky Security Network (KSN), which enables the delivery of Kaspersky Lab security intelligence in a matter of seconds, while ruling out false positives and maintaining high levels of protection.
"The recent WannaCry and ExPetr epidemics were an unfortunate reminder that the ransomware problem is real and can severely affect any company in the world," said Vladimir Zapolyansky, head of SMB business, Kaspersky Lab. "And the fact that 100,000 companies have already downloaded the Kaspersky Anti-Ransomware Tool shows that businesses are becoming increasingly worried and aware of the problem. Given the size of the estimated financial impact from ransomware, we encourage every business to check that they have the right security solution enabled. Companies that doubt their security solution is capable of combatting the latest ransomware threats, can put the new Kaspersky Anti-Ransomware Tool to work to test advanced anti-ransomware technologies."
To learn more about the Kaspersky Anti-Ransomware Tool or to download it now, please visit: https://go.kaspersky.com/KLHomeKART.html
Organizations that are looking to build on the protection offered from the Kaspersky Anti-Ransomware Tool can explore Kaspersky Lab's comprehensive next-generation security solutions for businesses of any size. Find out more on the Kaspersky Lab website.
About Kaspersky Lab
Kaspersky Lab is a global cybersecurity company celebrating its 20 year anniversary in 2017. Kaspersky Lab's deep threat intelligence and security expertise is constantly transforming into security solutions and services to protect businesses, critical infrastructure, governments and consumers around the globe. The company's comprehensive security portfolio includes leading endpoint protection and a number of specialized security solutions and services to fight sophisticated and evolving digital threats. Over 400 million users are protected by Kaspersky Lab technologies and we help 270,000 corporate clients protect what matters most to them. Learn more at www.kaspersky.com.
Media Contact:
Denise Bertrand
781.503.1836
Denise.Bertrand@kaspersky.com
Articles related to Product news
Enterprise-ready scalability, next generation technologies and EDR integration wrapped into Kaspersky Lab's flagship endpoint security offering.

Learn more >

Kaspersky Hybrid Cloud Security allows orchestration across major cloud platforms Amazon Web Services and Microsoft Azure.

Learn more >

New generation of Kaspersky Fraud Prevention provides organizations with tailored solutions to protect their business and customers from sophisticated fraud-related challenges

Learn more >