We've already told you how to prevent your kids from accessing unwanted data online with tutorials on how to block access to specific websites and how to control file downloading. But aside from unsafe surfing and dangerous downloading, children can also spend endless hours playing video games. This access should really be limited too, so we would therefor like to show how to control children's access to video games, chats, social networks and Internet surfing.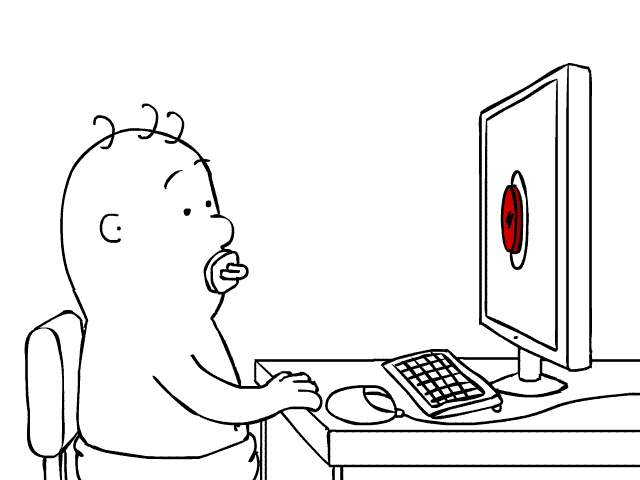 Parental Control from Kaspersky PURE allows you to limit the running time of applications on your computer, and you can limit or block access to specific applications on your child's own account.
To create a list of blocked or allowed applications and to specify time restrictions, open the Parental Control settings. Select the required user account and make sure the Enable control box is checked in the Applications Usage section. To add an application you want to specify limits for, click the Add button.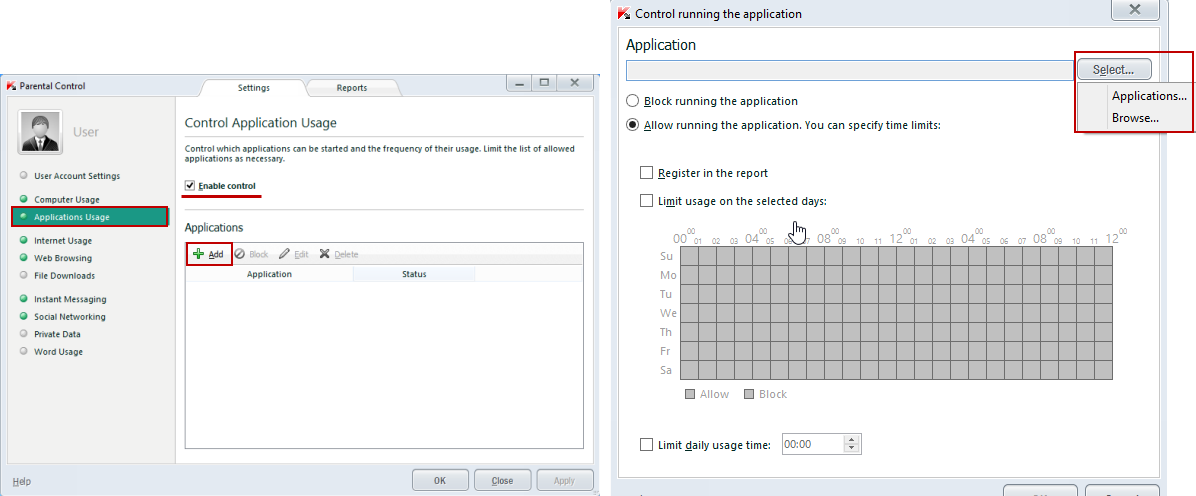 The Control running the application window will then open. Select the executable file of the required application by clicking the Select button. You will be able to choose one of the following options:
– If you select Applications, you can select an application from the list of running applications.
– If you select Browse, you can select an executable file of any application installed on your computer.
Once the application is selected, you can limit the application usage on selected days and assign daily usage time. If you would like to do this, check the Limit usage on the selected days box and mark in green the length of time you'd like your child to be given access to the given application.
In addition, you can specify daily usage restrictions. For example, on Saturday the user will be able to surf the Internet from 2 PM till 7 PM, while the browser will only be accessible during a period of 2 hours.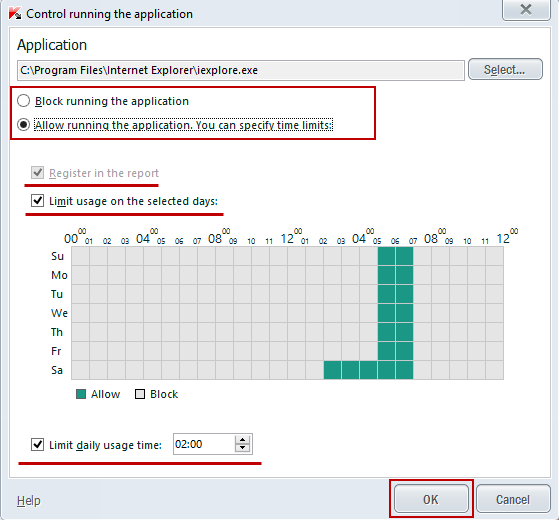 You can find a detailed description of the Parental Control options on the corresponding web pages of Kaspersky Internet Security 2013 and Kaspersky PURE.