How do you protect your company against ransomware?
Kaspersky Lab is here to help. Here are some facts and tips to help you avoid ransomware attacks:
Attacks on business increased from one every two minutes to one every forty seconds. Protect yourself from ransomware by backing up your files regularly.
67% of those affected by ransomware lost part or all of their corporate data. Deploy and maintain security software to keep data safe.
One in five SMBs who paid the ransom never got their data back. Don't pay the ransom.
#1 in 55independent tests.
In 2016, Kaspersky Lab was awarded 55 first places and 70 top-three finishes, making it the most tested and awarded network security company in the world.
It's no wonder why 200 countries carry our Kaspersky Lab brand.
3 MYTHS ABOUT RANSOMWARE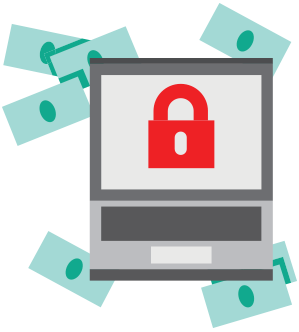 Ransomware is a bigger problem than you think. There are three main misconceptions about ransom viruses and how they affect businesses:
Myth #1. BUSINESSES ARE LESS OF A TARGET THAN INDIVIDUALS.
How big a threat is ransomware for businesses? Very big, and it's only going to increase. The ransom market price for businesses is many thousands of dollars, so cybercriminals see a big business opportunity from ransom payouts.
Myth #2. SMALL- AND MEDIUM-SIZED BUSINESSES (SMBS) ARE LESS OF A TARGET THAN LARGE ENTERPRISES.
Cybercriminals do not care if you are a large or small business. If you think targeted ransomware attacks are only limited to large enterprises, think again. Every size business can be a target, and no business is immune.
Myth #3. IT'S NOT THAT BIG A THREAT.
Only 37% of companies consider ransomware a serious danger. This means that most companies have their guard down, and cybercriminals know it. Your entire organization should be on alert and stay aware of the growing threat of ransomware.
Learn more about these myths, and how you can protect against ransom viruses, in Kaspersky Lab's eBook.
RANSOMWARE
Ransomware is a type of malware. It uses encryption to hold victims' files hostage and demands money in exchange for their safe return. It isn't new, but ransom viruses have been growing at an alarming rate—and many consumers are still unaware of the reach and effects.
Use the tips from Kaspersky Lab's eBook to protect all the elements of your infrastructure and discover how we can provide your business with ransomware removal with our premium security.
Kaspersky Lab is one of the world's fastest-growing cybersecurity companies and the largest that is privately owned. The company is ranked among the world's top four vendors of ransomware removal solutions. Since 1997, Kaspersky Lab has been an innovator in cybersecurity and provides effective digital security solutions and threat intelligence for large enterprises, SMBs and consumers.
400 MILLIONusers protected

by Kaspersky Lab Technologies
323K

new malicious files detected by us every day

270K

companies use our security

200

countries and territories benefit from our products

~120

global Technology / OEM Agreements