Install Kaspersky Security for Mac
Before you begin:
Please note: Make sure you have removed any previously installed security software from your computer. This includes previous versions of Kaspersky Anti-Virus for Mac.
Step 1 - Open the Installation File
Open the Kaspersky Security file with the extension *.dmg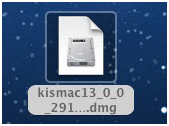 In the Kaspersky Security window, double-click on the Kaspersky Security icon.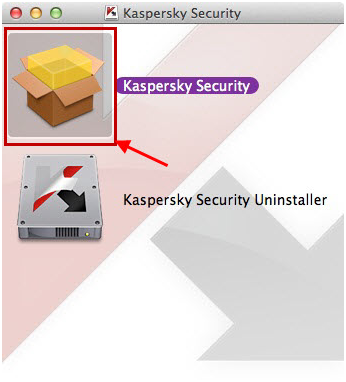 In the application run determination window, click on the Continue button.
On the Introduction step, you can find main functions and system requirements for correct application functioning. Click the Continue button in order to start the installation process.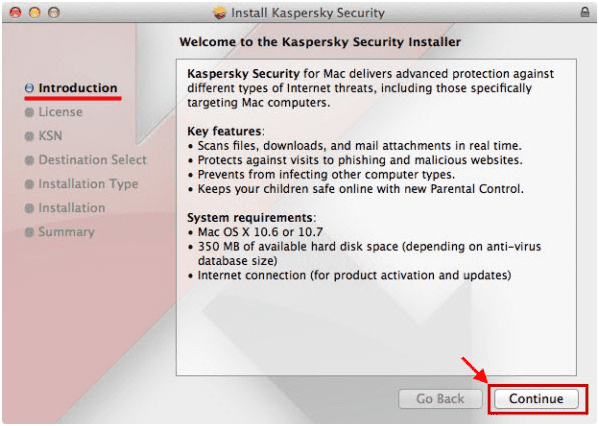 In the License window, please review the Software License Agreement, and then click Continue.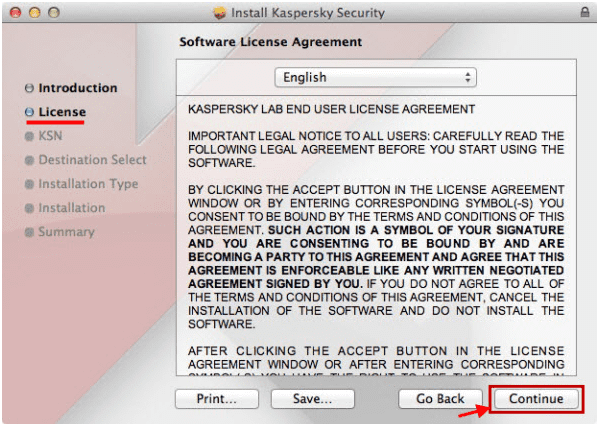 In order to proceed, you will be asked to Agree with the Software License Agreement. Click on Agree to continue the installation process.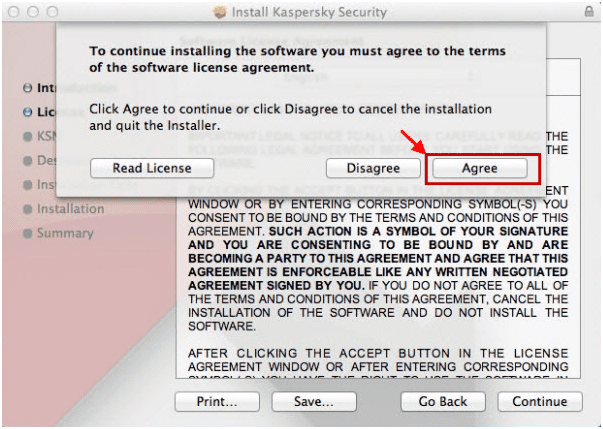 On the next screen you may choose to participate in the KSN using the checkbox and clicking Continue.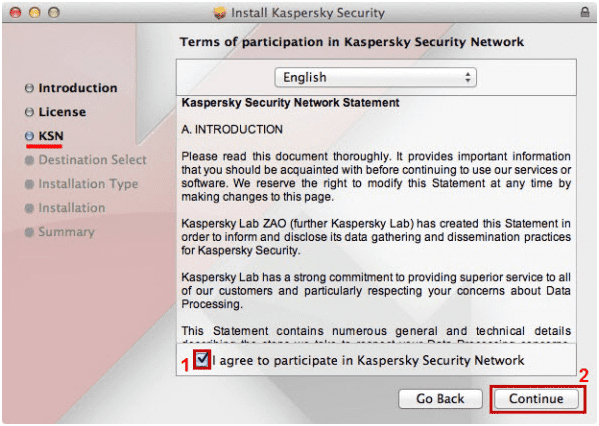 Step 2 - Install Process
In the Installation window, click Install to perform a standard installation of the software.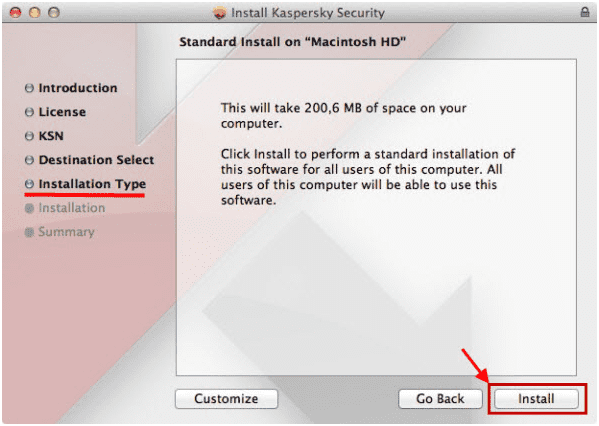 If you wish to change the location where the file will be installed, click the Customize button. Select where you would like the software to be installed, and then click Continue.
You will be prompted to enter your Mac account username and password. Once you have entered the information, click Install Software.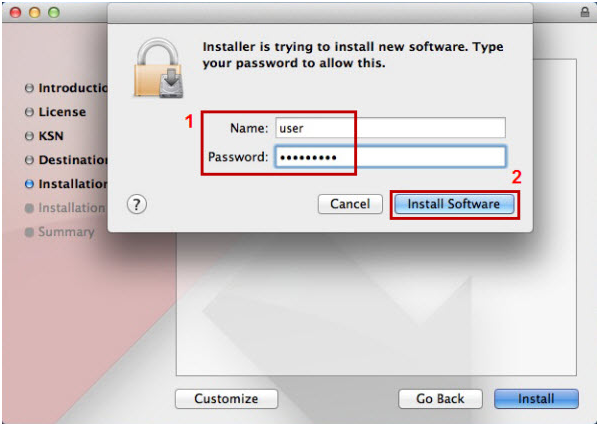 You will briefly see the install process copy the installation files to your Mac. Once you see that the installation has been successful, click Close.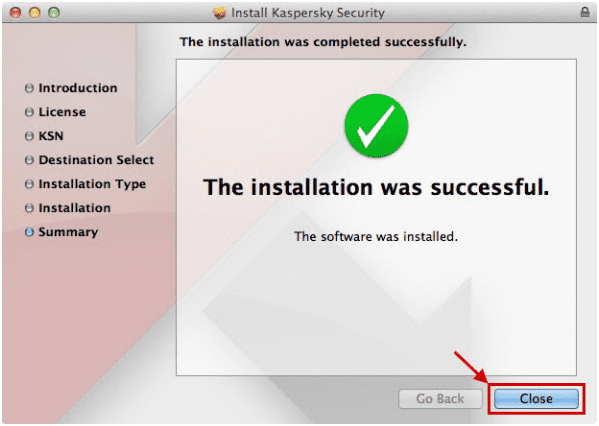 Activation Process
Once you have installed Kaspersky Security for Mac, you will need to activate the application in order to enjoy its full functionality. If the application is not activated, you will see Application not activated in the main window of the application.
To activate the application, click the License button which is indicated by the "key" symbol in the main window.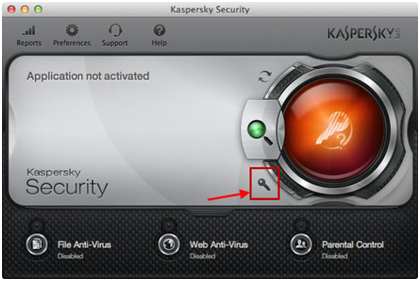 In the License window, click Activate.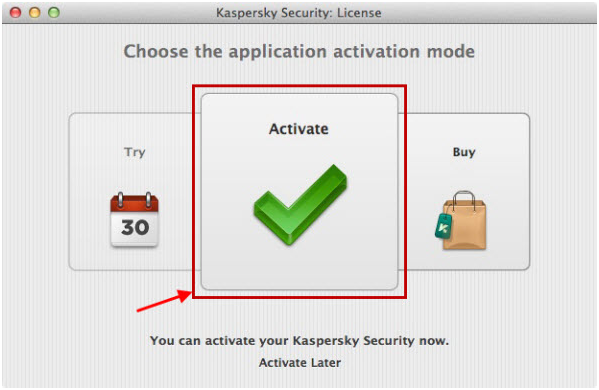 Enter your activation code, and then click the Activate button. Please note there is no need to capitalize letters and the dashes will be added for you automatically.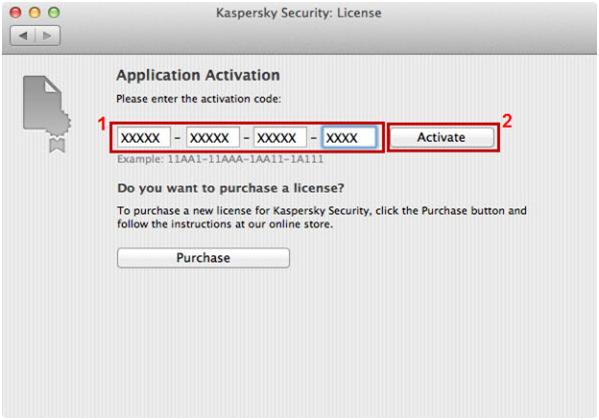 You will see the Activation Assistant connecting to Kaspersky Lab's activation server.
When the activation has been successful, you will see the following information about the license: serial number, license type, and expiration date. Please click Finish.