Install Kaspersky Password Manager
Before you begin:
Before installing Kaspersky Password Manager you must first create a Kaspersky Account at the Kaspersky Protection Center: http://center.kaspersky.com
To register click Sign up Now! and enter in the necessary information to create an account. You will also need to verify your account from the automated email that will be sent to the email address that you used to create your account.
Step 1 - Add your subscription license to the Kaspersky Protection Center Portal:
Once logged into the Kaspersky protection center portal, click on the My Licenses option. In the +Add activation code section, you will need to add your 20 digit activation code found inside the product packages. Once the activation code is added, you will see the Kaspersky Password Manager box in the My Licenses section.
Step 2 - Save the Installation File:
Kaspersky Password Manager can be downloaded from the Kaspersky Protection Center Portal.
From the My Licenses section of the Kaspersky Protection Center, click the Add device button from within the Kaspersky Password Manager box. Choose the device you are currently on to download directly to your device. Download speeds will vary depending on your Internet connection, but could take from a few minutes to an hour.
When the download completes, click Close.
Close all open windows except this web page, then locate the file on your Desktop and double-click on it to begin the installation process.

If prompted to run the file, click Run.
Step 3 - Install Process:
Select the language and click Continue.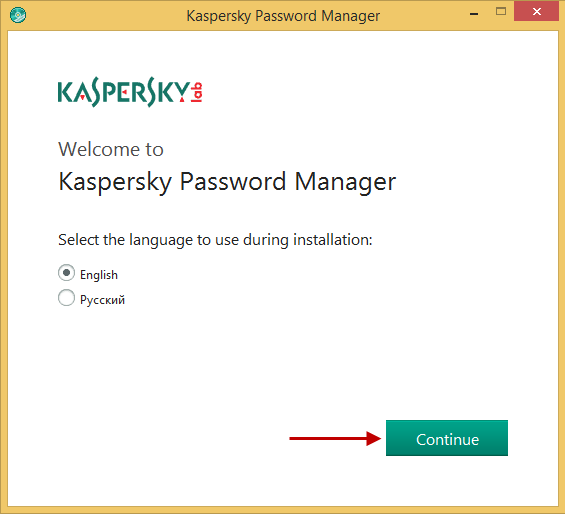 In the User Account Control dialog window, click Yes.
Click Install.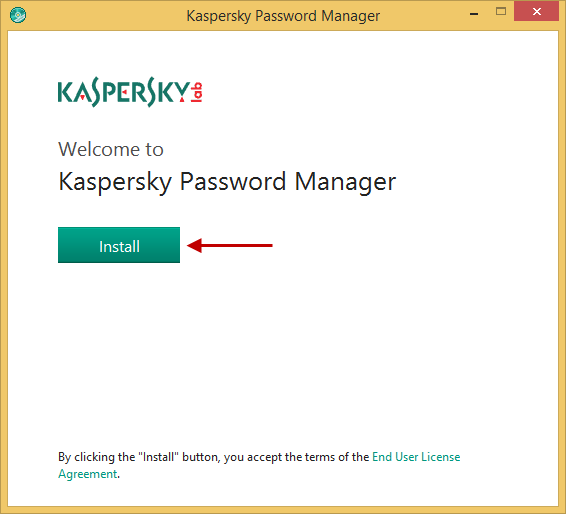 Wait until the installation is completed and click Finish..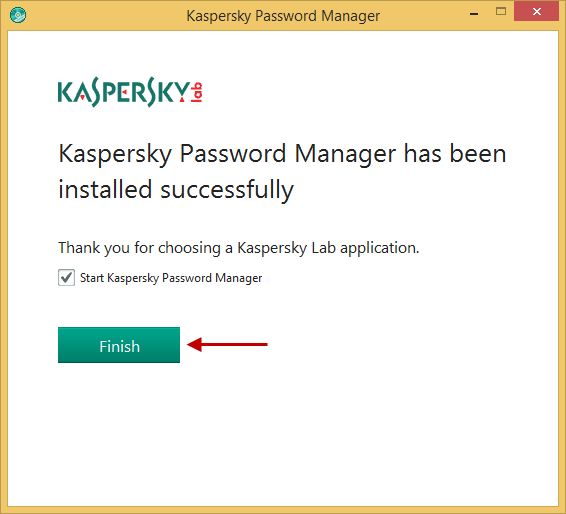 In the User Account Control window, click Yes.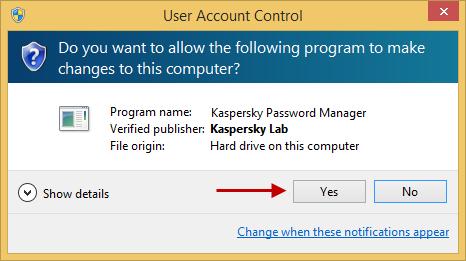 Step 4 - Activation Process:
If you have created a new account at My Kaspersky or used an account which does not contain the license for Kaspersky Password Manager when installing Kaspersky Password Manager 8.0, you will get a free version that does not require activation.
The free version has the following limitations: only 15 credential sets and 1 identity card will be active on all devices, other entries will not be synchronized.
If you want to use the full version of the product, activate it with a compatible activation code.
You cannot use an activation code for Kaspersky Password Manager 5.0.
You can use activation codes for the following products:
Kaspersky Password Manager 8.0
Kaspersky Total Security
Kaspersky Small Office Security
Add the activation code to your account on My Kaspersky and synchronize the product with your account:
Sign in to your account at My Kaspersky.
Click Licenses.
Enter your product license code and click Add.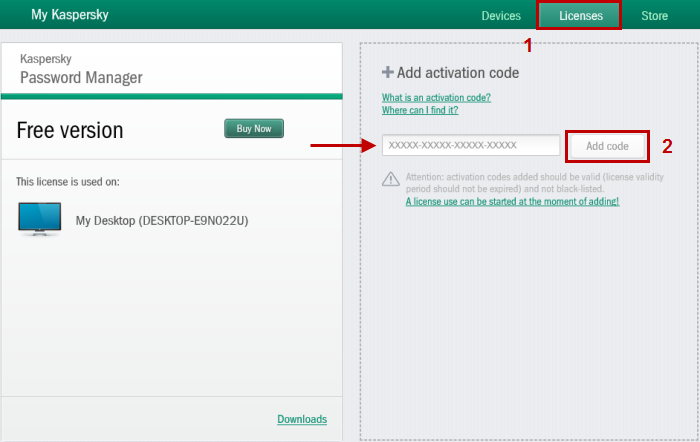 In the lower part of the Kaspersky Password Manager window, click the Synchronization link, then click Synchronize.