Most people bought their first antivirus program to run on a single computer – but that was five, ten or even fifteen years ago. The world has changed, and our technological horizons have been transformed dramatically in recent years. Today, most households have many more devices than a single home computer: it's no surprise to find users running laptops, a tablet and a smartphone or two as well. Just like the traditional PC, these devices also need protection against online threats. And, rather than set up a separate solution for every device, today, Kaspersky Lab presents Kaspersky Internet Security – Multi-Device, which is an integrated product to protect all your devices. From Windows-based PCs to smartphones and tablets, from Macs to laptops, everything is kept safe with a single license.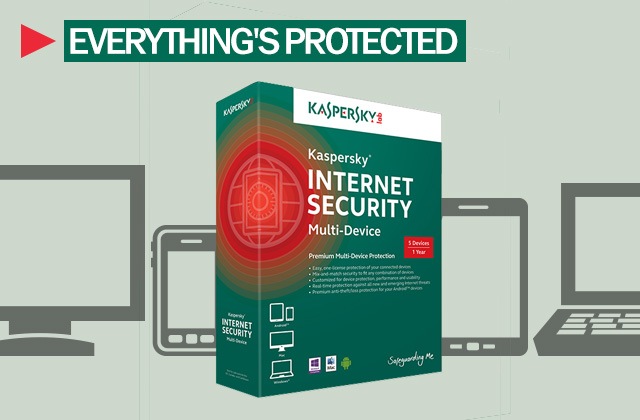 It's the Same Internet – The Case for Multi-Device Protection
According research from B2B International, a leading independent market firm, the average household contains 4.5 Internet-connected devices, meaning the days of families accessing the Internet through one or two shared desktop or laptop computers have disappeared. As owners purchase more devices, it becomes more of a chore to keep these devices maintained and updated. Kaspersky Internet Security – Multi-Device uses a single activation code for each user product, a single start-date for your annual subscription, and a central management console, helping to make a multi-device life easier to handle.
Smartphone and tablets have become the new standard for browsing, interacting, and shopping online, but despite their popularity, many users don't think these devices require comprehensive protection. Interestingly, users had a similar attitude towards their full-fledged computers five years ago before recognizing the need for PC security.  While the devices are different and numerous, the fact is that users are all accessing  the same Internet, and are thus vulnerable to cyber-threats no matter what tool they use to connect.
Cyber-criminals are predictable in one way: they will adjust their tactics and targets when they spot new opportunities to steal money. In recent years, a flood of Android tablets and smartphones that access the Internet without proper security have given these thieves a new type of vulnerable and potentially lucrative target.
Kaspersky Internet Security – Multi-Device uses a single activation code for each user product, a single start-date for your annual subscription, and a central management console, helping to make a multi-device life easier to handle.
Android Tablet and Smartphone Protection
Mobile devices have become the primary browsing tool for millions around the world and the Android operating system is by far the platform most targeted by cybercriminals. This should come as no surprise, since fifty-two percent of smartphones in the U.S. run on the Android operating system, according to a recent Nielsen report. In fact, approximately 99 percent of all mobile malware detected by Kaspersky Lab is designed for Android devices, and the number of new mobile malware samples detected in 2012 – more than 35,000 unique pieces –  was six times larger than what was detected in 2011.
Key Android Security Features
Real-time protection against mobile malware, including automatic scanning of downloaded programs to prevent the installation of rouge applications masquerading as legitimate
Web browsing protection to ensure users don't click on malicious websites or phishing links designed to steal personal information
Anti-theft features, which allow users to locate missing devices using GPS and cellular signals.  Users can also remotely lock devices and wipe data, and activate the devices camera to automatically take pictures of whoever currently possesses it
Call and text-message filtering to block spam and unwanted phone calls
Mac Protection
As Mac computers have begun attaining a notable global market share, cybercriminals have begun targeting the platform.  In addition to the small but growing malware concern, both Mac and PC users are equally susceptible to phishing scams using forged websites designed to steal personal information.  With Kaspersky Lab's protection, Mac users are assured of the highest degree of online security, without slowing down the performance of their computer.
Key Mac Security Features
Full protection from all malware threats, including Mac-specific malware, and all PC-targeting malware that can be stored on Macs and inadvertently transferred to PCs
Advanced Parental Controls to ensure children use the Internet safely and responsibly
On-screen Virtual Keyboard, providing an extra layer of protection from keylogging malware when entering personal information online
Windows PC Protection
Kaspersky Internet Security Multi-Device includes the full protection found in the award-winning Kaspersky Internet Security 2014.  Armed with the award-winning core technologies of Kaspersky Lab's most widely-used solution, PC users can browse, bank, and shop online with the most advanced protection from money-stealing malware and other cyber-crime.
Key PC Security Features
New Safe Money proactive protection against financial-theft
New tools to defeat malware that locks your computer and demands ransom to return control of your data
Protection specifically for social networks, like malicious URLs that spread on Facebook and Twitter
Parental Controls to block objectionable content, limit the amount of time spent online, and automatically prevent children from sharing private information– credit card numbers, phone numbers, home addresses – on social networks.
Thanks to Kaspersky Internet Security – Multi-Device, you can enjoy the ongoing digital revolution while knowing that your protection is evolving as fast as the technologies you enjoy using. All your online devices will be safe, and everything you value – your data, your memories and your money – is securely protected on all of your devices. A one-year license Kaspersky Internet Security – Multi-Device can be purchased for $79.95 for 5 devices, via our online store.