In 2014, Kaspersky Lab and B2B International conducted the Consumer Security Risk survey to examine the security concerns and behaviors of the modern consumer. The results of the survey highlighted various security issues, including that 92% of participants trust their computers and smartphones with their sensitive information and personal data, even in a world of increasingly sophisticated Internet threats. Just last week, it was revealed that Huffington Post, Yahoo New, AOL and TMZ were hit by malicious ads and 1.5 billion visitors are at risk.
Consumers need protection on every device they use to go online, and the ability to keep personal data and communications private. That is why today, we are introducing Kaspersky Total Security, which provides the ultimate protection with new and improved features, easy-to-use management and award-winning technology that doesn't slow down a device. Consumers can now conveniently secure any combination of devices with just one license.
Kaspersky PURE is now Kaspersky Total Security. Learn more about its new features now.
Why is the name changing? Kaspersky Lab is always looking for ways to make it as easy as possible for you to find the right security product to meet your needs – whether essential antivirus protection, Internet security that gives you the freedom to shop, bank, share and explore without worry or a total security solution for your privacy, your money and your family that leaves nothing to chance. With Kaspersky Total Security, you're getting our most comprehensive security solution.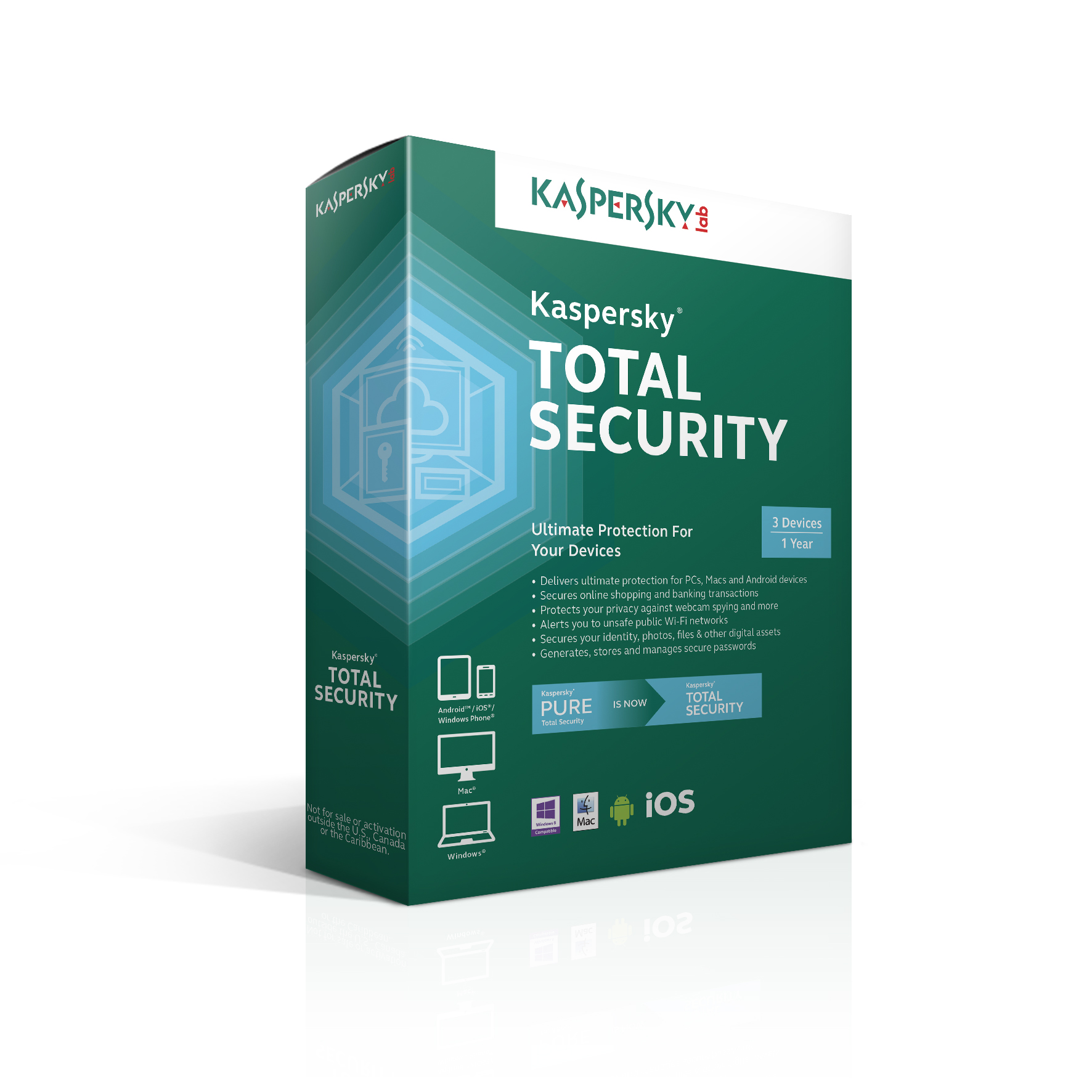 What's new?
Kaspersky Total Security has a new look and easier navigation for the security dashboard, new security features for your PC like Webcam Protection and WiFi security notifications and provides access to your redesigned Password Manager. However, the biggest change is that your Kaspersky Total Security license now includes access to security solutions for all of your devices (Mac and Android smartphones and tablets) – not just your PC.
Kaspersky Total Security Delivers Ultimate Security Across All Devices.
The average household has about five different devices that can be used to connect to the Internet. That can include PCs, Macs, Android phones and tablets, iPhones and iPads and even Windows Phones. All these devices are vulnerable to Internet threats.
Protecting against Threats
Online security is now more than a matter of responding to a changing threat landscape – the Internet environment itself is becoming more complicated across all types of devices. According to the Kaspersky Security Network (KSN), about 300,000 malicious programs for Microsoft Windows appear every day. KSN data also sees an average of nearly 28,000 new malicious files detected monthly for Google Android. The amount of dangerous software for Mac OS X is also growing steadily: in 2014, Kaspersky Lab experts detected 1,499 new malicious programs for Mac OS X, 200 more samples than in the previous year. Many threats, such as data interception via Wi-Fi or network attacks, are increasingly targeting consumers across all platforms.
As a result, Kaspersky Lab experts are constantly improving protection technologies for computers and mobile devices. For example, Network Attack Blocker for Windows prevents a system infection or data theft due to a network attack and Wi-Fi Security Notification for Windows warns users if they are trying to connect to an unsecured network.
Many threats, such as data interception via Wi-Fi or network attacks, are increasingly targeting consumers across all platforms.
Protecting Privacy, Finances, Identities, Data and Children
According to the Kaspersky Lab survey, 60% of participants worried about whether or not someone is using their device to spy on them. Features have been included in Kaspersky Total Security to thwart these threats such as Webcam Protection for Windows, which monitors all attempts to access a webcam by any program. In addition, Privacy Protection for Android enables users to configure filtration rules for incoming calls and messages and hides all traces of communication with certain contacts, including calls and SMS. There is also Privacy Cleaner for Windows that wipes the history of user activity (visited pages, downloaded files, etc.), and File Shredder, which removes any file so that it cannot be restored.
Kaspersky Total Security includes Safe Money technology to protect online transactions. The feature confirms that the banking or payment website is legitimate by validating the authenticity of the security certificate, isolating the Web browser from any attempts to inject malicious code and scanning the operating system for vulnerabilities critical to online banking. Safe Money also features a virtual keyboard that prevents keyloggers from intercepting inputted information and defends against malware that can capture images from a PC screen.
To prevent data loss, Kaspersky Total Security integrates a back-up function, either on-demand or scheduled (for Windows only). The copies can be stored on a local or network disk, an ftp-server or in the Dropbox cloud storage.
For those 58% of users who worry about their personal data being stolen, Kaspersky Total Security integrates Anti-Theft (for Android-based devices) and Data Encryption (for PC Windows) features in addition to traditional antivirus technology. Anti-Theft can remotely block the lost device, locate it via GPS or wipe the data stored on it. Data Encryption enables the creation of password-protected encrypted folders for particularly sensitive files.
Finally, Kaspersky Total Security provides Parental Control for Windows and Mac OS X users. Parents can set the amount of time their children are allowed to spend online, restrict applications children can run and control what information they share on the web. In addition, Safe Browsers for iOS and Windows Phone – allow parents to select categories of sites with inappropriate web content (such as violence, drugs, online games, etc.) and block access to them.
My Kaspersky
To make sure you are able to manage all the devices easily, Kaspersky Total Security is integrated with the My Kaspersky portal. Once an account is registered on the portal, the status of all devices with Kaspersky Lab solutions can be viewed in a single window. This includes activation and expiration dates of the security solutions installed on them, the time of the last check and the databases status. You can remotely manage licenses and change product settings for Windows and OS X. You can also remotely run scans, download new database updates, etc. In addition, My Kaspersky manages the Anti-Theft for Android function.
To download a free trial, click here.