Men used to be the only ones who had the right to an education, serve in the military, vote or have a job, but times have changed. We're living in the 21st century and the world has seen a lot of progress in women's rights. But those rights that were once exclusively given only to men have meant that women have had to do some catching up in the years since. And we've definitely been catching up and overcoming gender biases.
The inspiration for this blog post came about after I read a recent Kaspersky study on the evolution of women in tech. The research found that while trends are moving in a positive direction, 38% of women cited the lack of women in the tech industry as a factor deterring them from entering the sector. The research also found that only 19% of women working in the sector were encouraged by female role models. This highlights the importance and need for more female role models in the industry.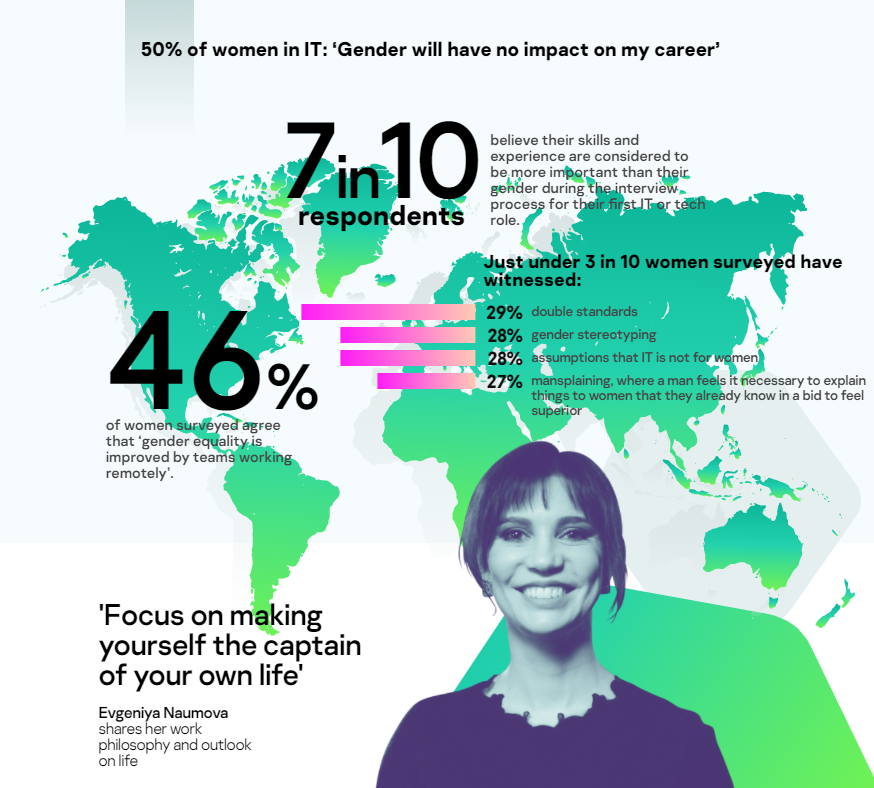 Therefore, I thought it would be fitting during Women's History Month to highlight some outstanding women who have broken barriers and persevered to get to where they are today. I hope the stories of these leading women in tech inspire those who might feel discouraged or angry at the inequality that still exists.
In the words of Michelle Obama, "There is no limit to what we, as women, can accomplish."
1. Whitney Wolfe Herd, CEO of Bumble (@WhitWolfeHerd)
Wolfe Herd recently became the world's youngest self-made female billionaire when Bumble IPOed, but it certainly was no easy road for her to get there. She didn't have a STEM degree or well-connected parents, and she started her career in tech just 5 years ago. Before Bumble, she was the VP of marketing at Tinder, but left the company after she was sexually harassed and discriminated against. Now, she leads Bumble, a dating app where 100 million women have signed up to make the first move. But that's not all that sets Bumble apart from its competitors. The company has taken a firm stance against any form of body shaming, worked with Texas lawmakers to outlaw the unsolicited sending of lewd images, and showed no tolerance for misogyny on its platform.

2. Avril Haines, U.S. Director of National Intelligence
Recently appointed the nation's top intelligence official, Haines is the first woman in US history to lead the US Intelligence Community. I recently discovered that Haines has lived quite an intriguing life. She spent time at an elite judo academy in Japan, loved rebuilding cars and airplanes, and even ran an independent bookstore and café with her husband in the 90s. She's also held several positions in government including serving as deputy chief counsel to the Senate Foreign Relations Committee, National Security Council legal advisor, deputy director of the CIA, to name a few.
3. Stacy Brown-Philpot, Founding Member at SB Opportunity Fund (@sbp04)
Google didn't start at Brown-Philpot's garage, but she spent a good decade of her career the company. She started off as a sales director, later moved from San Francisco to Hyderabad, India to head Google's online sales and operations, before leaving as a senior director of global consumer operations. She then joined TaskRabbit as its COO and was promoted to CEO in 2016, joining a small circle of Black women to have led tech companies. Brown-Philpot stepped down from the role in June 2020 to take on a new task of serving as an advisor to SoftBank's Opportunity Fund to support businesses led by people of color. In addition, she is a board member at HP Inc., Nordstrom and Black Girls Code.

4. Noushin Shabab, Senior Security Researcher at Kaspersky GReAT (@NoushinShbb)
Growing up, Shabab has always been a fan of puzzles and mathematical problems, an equation that makes for someone interested in IT and programming. From a young age, she's participated in national programming contests and computer science competitions. One of her early forays into the world of cybersecurity was when she and her twin sister were offered a job at a company that developed antivirus software and other security products. Fast forward to present day, Shabab is now a member of Kaspersky's Global Research & Analysis Team (GReAT), an elite group of more than 40 security experts.

5. Emilie Choi, COO & President of Coinbase (@emiliemc)
After 8 years as LinkedIn's vice president of Corporate Development, Emilie Choi joined Coinbase in 2018 as its vice president of Corporate and Business Development. Since then, she has been promoted to COO and president of the popular cryptocurrency exchange start-up. While she wasn't always a believer in the future of cryptocurrency, she played a fundamental role in securing $325 million in funding that helped the company score an $8 billion valuation in 2018.
6. Ellen K. Pao, co-founder & CEO of Project Include (@ekp)
Her parents were academics in STEM and it was her mother who taught her to code at the age of ten. These days, one can often find Pao speaking out against racism and discrimination in tech. But it wasn't until she sued her former employer, Kleiner Perkins, a Silicon Valley venture capital firm, which put the spotlight on her. As the story goes, she was passed on for a well-deserved promotion, meanwhile, men with similar profiles were promoted. Though the lawsuit was unsuccessful, it didn't slow her down. Pao later became CEO of Reddit prior to co-founding Project Include, a non-profit that "uses data and advocacy to accelerate diversity and inclusion situations in the tech industry."

7. Kimberly Bryant, founder and CEO of Black Girls Code (@6gems)
Graduating with a degree in Electrical Engineering, Bryant has held a number of technical leadership roles in the pharmaceutical and biotech industries. However, it was the lack of diversity in the tech industry that led to Bryant's decision to leave her corporate job. She then founded Black Girls CODE, a non-profit organization dedicated to growing the number of women of color in tech by providing girls of color between 7 to 17 exposure to computer science and tech.
8. Reshma Saujani, Founder and CEO of Girls Who Code (@reshmasaujani)
A graduate of the University of Illinois, Harvard, and Yale, Saujani began her career as an attorney and activist. In 2010, she emerged on the political scene as the first Indian American woman to run for U.S. Congress. During the race, she observed the gender gap in computing classes which led to her founding Girls Who Code. The international non-profit organization is building up young girls between ages 13 and 17 with the goal of closing the gender gap in entry-level tech jobs by 2027. In a recent blog post, it was announced that Saujani is stepping down as CEO of the organization as she passes on the baton to Dr. Tarika Barrett. She continues to be a voice for young girls and women in tech through her award-winning podcast "Brave, Not Perfect."

9. Katie Moussouris, founder and CEO of Luta Security (@k8em0)
She was the first girl in her high school to take AP Computer Science and learned to program on a Commodore 64 her mom bought her in 3rd grade. When she was the system administrator for the MIT Department of Aeronautics and Astronautics, she helped design the computer system for a new lab that was set to open. She then joined @stake as a penetration tester and moved on to Microsoft where she headed the company's bug bounty program before becoming the chief policy officer for HackerOne. More recently, Moussouris is the founder and CEO of Luta Security, an organization that seeks to "improve vulnerability coordination and security overall."
10. Susan Wojcicki, CEO of YouTube (@SusanWojcicki)
You know the story of how Google was started out of someone's basement? That someone is Susan Wojcicki. Not only that, she joined Google as its 16th employee in 1999 and was the company's first marketing manager. Though Wojcicki didn't intend on pursuing a career in tech early on, she studied history and literature at Harvard, she took her first computer science class during her senior and later discovered an interest in technology. At Google she helped created AdSense, the advertising arm of the company, and worked on teams that oversaw the acquisition of YouTube and DoubleClick.