In conjunction with National Cybersecurity Awareness Week, Kaspersky North America is proud to announce our support for the initiative. To help spread awareness we have partnered with women-in-tech influencer, CodingBlonde, to highlight career opportunities in the industry. We will also be sharing videos on LinkedIn where several of our colleagues describe their experience of working in the industry. 
The skills gap has long been an issue for the industry. International, nonprofit membership association for information security, (ISC)² says the cybersecurity workforce needs to grow 145% to close the skills gap, equivalent to 4.07 million professionals. As a result, 62% of CISOs said they find it hard to hire new security talent, with Malware Analysts and Cloud Security Specialists being the most difficult roles to source for skilled professionals.
A quick LinkedIn search for jobs in 'Cybersecurity' showed 57,257 job postings with a variety of opportunities from Reporter, Cybersecurity Consultant, Social Media Manager, to Cybersecurity Researcher and thousands of others.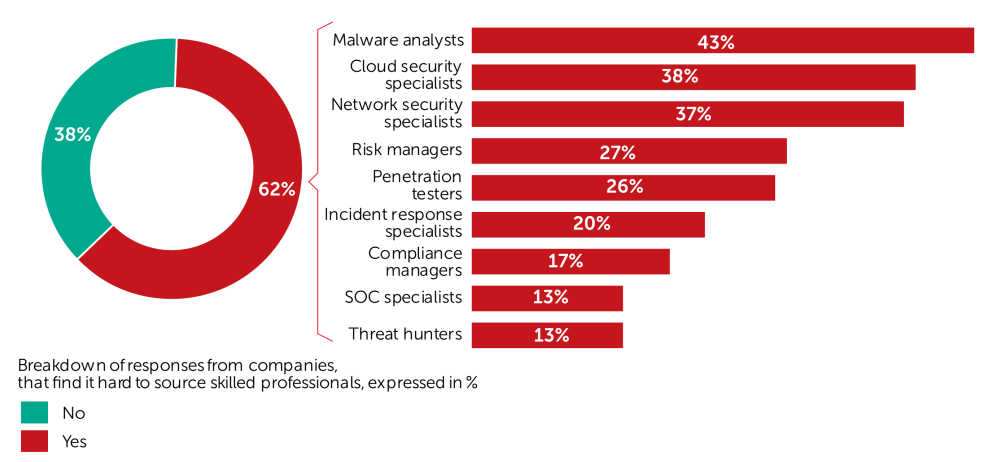 The industry is desperate for more talent. A survey by the Enterprise Strategy Group (ESG) and the Information Systems Security Association (ISSA) points out that there are a number of fundamental causes for the skills gap, including a lack of training and career development opportunities.
The small talent pool has also brought forward another issue: the lack of diversity in the field. In a field that needs millions of professionals, only around 15% of employees in the IT sector are women. Even as more women pursue a career in tech, the tech industry is as a whole is still very male-dominated. The problem is, young girls aren't typically encouraged to explore careers in science, technology, engineering, and math (STEM). As a result, women only make up 28% of the workforce in STEM.
The need for more skilled professionals in cybersecurity could be greatly supported by women in the industry. To reduce the deficit, young people need to be exposed early to available educational resources that can help prepare them for a career in IT security.
The technical people– absolutely critical to what we do. But there are so many other ways you can support the mission and get involve with cybersecurity. So, if you are not a technical person, that isn't a concern."

—Randall Richard
Despite media portrayal, working in cybersecurity isn't all about being a hacker. And no, you do not need to be a super technical person to find a job in cybersecurity. If you're curious to learn about potential career paths, explore this interactive career pathway by CyberSeek which shows different jobs in cybersecurity, the salaries and skillsets associated with each role.
Chief Information Security Office
Digital Forensics Expert
Security software developer
Information security analysts
Penetration tester
Security analyst
Security researcher
If you are interested in exploring career options and learning more about opportunities in the industry, the National Institute of Standards and Technology will be hosting events all week long.
Twitter Chat: Careers in Cybersecurity | Nov 9 | 2 PM
Careers in Cybersecurity Speaker Series: Cybersecurity – What's It All About? | Nov 9 | 11 AM
Cybersecurity Career Discover for the Next Generation | Nov 10 | 2 PM
Recruiting Women to Cybersecurity: From Intention to Action | Nov 10 | 3 PM
Virtual Cybersecurity Careers Family Night | Nov 10 | 6.30 PM
Non-technical Cybersecurity Career Options | Nov 12 | 3 PM
How to Get into Cybersecurity with No Experience | Nov 12 | 4.30 PM
For women who might be looking for a support group, the Women in CyberSecurity group on Facebook is a great place to get started.