Woburn, MA – April 7, 2021 – Half of consumers (50%) would walk away from an online service provider if it suffered any form of data breach, according to a study of 15,000 consumers worldwide, conducted by global security company Kaspersky. Sixty-three percent said they would no longer use a provider if they learned it was selling their data to a third party.
American users were more forgiving. Just 38% of respondents in the U.S. said they would walk away in the case of a breach, and only 50% said they'd do the same if their data was sold to a third party.
Regardless of geography, the data suggests that as consumers understand more about businesses' data privacy responsibilities, more transparency may be needed from those companies about how they handle user data.
Increased online activity over the past year, including shopping, entertainment, communication and remote work, likely helped fuel heightened awareness about how personal data is being used. Almost two-thirds (62%) of global respondents (57% in the U.S.) are now worried that their online activities are being constantly tracked by the websites or services they visit.
In addition to consumer reaction following a breach, many are also demanding greater protection of their data ahead of time, from both enterprises and governments. Around half of global users (51%) and 42% of U.S. users said that they want companies to be transparent in their data processing, while 48% globally and 43% in the U.S. thought companies should be equally open about how their technology works. Fifty percent of global consumers also called on governments to be transparent about their data collection and management processes. This figure was only 40% in the U.S.
Consumers were not completely opposed to the idea of data processing in general. Sixty-eight percent agreed that the apps and digital services they use make their lives substantially easier. However, considering that 14% of American users (12% globally) have had their personal data leaked or shared inappropriately by a third party, the prevailing sense of caution is understandable.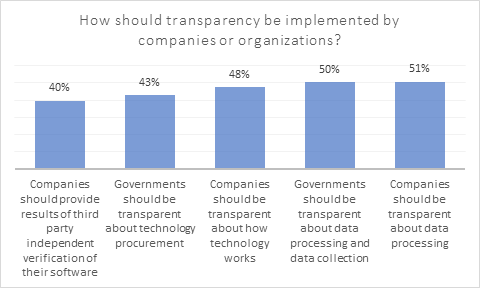 How should transparency be implemented by companies or organizations?
"It is clear from the data that people have developed a sense of control and they are now demanding openness about how and where their data is being managed," said Marina Titova, Head of Consumer Product Marketing at Kaspersky. "This is something we at Kaspersky absolutely support and champion, having brought to light the significance of transparency in the infosec space. We have recently relocated data processing to Switzerland, and this change of behavior among consumers will aid our own efforts to make data processing practices more secure and transparent in the future. Businesses should be aware of how detrimental it would be to brand reputation to ignore these calls."
In addition to steps being taken by service providers, there are also measures that consumers can take to keep themselves and their information safe. Kaspersky's recommendations include:
Updating programs and operating systems whenever prompted. Within these updates, vulnerabilities are patched which means that breaches are less likely to occur.
Choosing an encrypted Wi-Fi connection to keep your computers and information safe from prying eyes. You can also employ a solution like Kaspersky Security Cloud, which offers a wide range of tools like account checker, private browsing, blocking modes, anti-ransomware, mobile security and password management.
When you have to connect to public Wi-Fi, consider using a virtual private network (VPN). It protects your data and doesn't keep your history of visited sites, search queries, or other actions, so you can remain protected from a potential breach.
Changing account passwords regularly, as well as default passwords for your devices and router. Default passwords are too weak and already known across the internet.
Finally, remaining vigilant to malicious, yet convincing emails and always being aware of privacy safeguards within all apps and services.
For more insight and advice, please see the full report.
About Kaspersky
Kaspersky is a global cybersecurity and digital privacy company founded in 1997. Kaspersky's deep threat intelligence and security expertise is constantly transforming into innovative security solutions and services to protect businesses, critical infrastructure, governments and consumers around the globe. The company's comprehensive security portfolio includes leading endpoint protection and a number of specialized security solutions and services to fight sophisticated and evolving digital threats. Over 400 million users are protected by Kaspersky technologies and we help 240,000 corporate clients protect what matters most to them. Learn more at usa.kaspersky.com.
Media Contact
Sawyer Van Horn
sawyer.vanhorn@Kaspersky.com
(781) 503-1866