September 10, 2019
Kaspersky Research finds over a Third of Small Businesses Have Suffered a Data Breach so far in 2019


Woburn, MA – September 10, 2019 – According to new research from Kaspersky, roughly 36% of small businesses have been victims of data breaches so far in 2019[1]. While data breaches remain an area of concern for businesses of all sizes, the survey revealed that small businesses in particular are not taking the proper precautions to prevent such threats from happening.
While cybersecurity incidents in companies with under 50 employees are rarely publicized, data breaches for small organizations are growing faster than in any other sector and have experienced a year over year increase of 6% since 2018 as opposed to SMBs (2%) and enterprises (3%).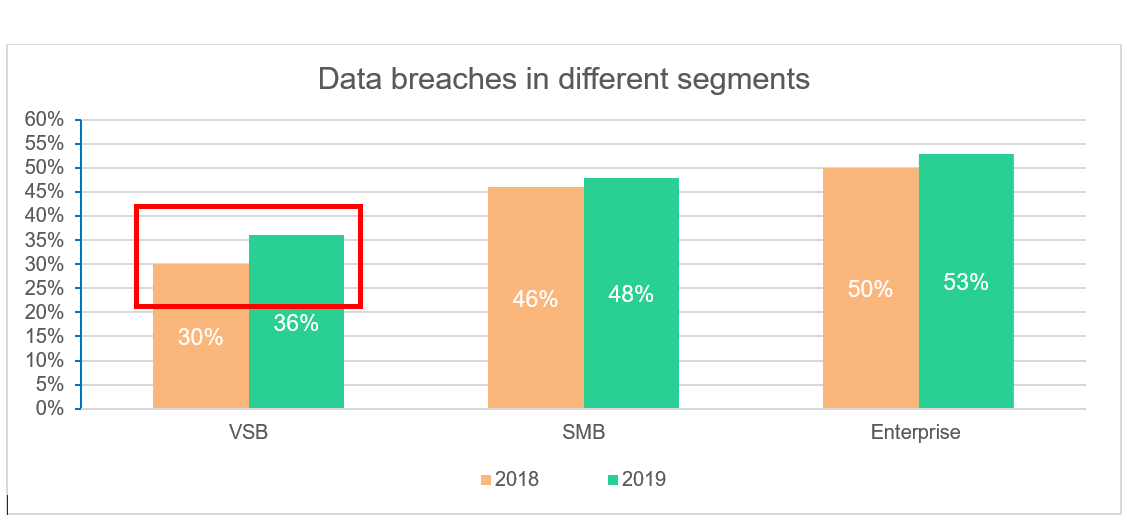 To avoid future data breaches, small businesses must be better prepared with the appropriate security protections in place to keep their entire business safe. However, the survey found a third of small business (33%) do not have centralized cybersecurity management and maintenance protection on a specific computer remains the responsibility of each individual employee. In addition, the survey revealed that some small businesses (25%) use home consumer products as their only form of security protection. While it is better to have some security measures in place than none, solutions for individual consumer users do not have specific functions that are necessary for business security, like protection for servers or centralized management.
"Smaller companies are often focused on how to make their business work and grow, just like they should be," said Andrey Dankevich, solution business lead at Kaspersky. "They may not have cybersecurity among their top priorities; however, the cost for overlooking the problem will only grow. Why? Because malware doesn't distinguish between its victims and because even very small organizations have something to lose such as sensitive data. The good news is that to be able to protect themselves both from malware and human factor risks, these smaller companies don't need to invest much or hire advanced specialists. It is only a matter of choosing the right security product."
More information about data breaches in small businesses is available on Kaspersky blog.
---
1 As part of its IT Security Risks Survey Kaspersky surveyed 1138 companies with 1-49 employees on April 2019.
About Kaspersky
Kaspersky is a global cybersecurity company founded in 1997. Kaspersky's deep threat intelligence and security expertise is constantly transforming into innovative security solutions and services to protect businesses, critical infrastructure, governments and consumers around the globe. The company's comprehensive security portfolio includes leading endpoint protection and a number of specialized security solutions and services to fight sophisticated and evolving digital threats. Over 400 million users are protected by Kaspersky technologies and we help 270,000 corporate clients protect what matters most to them. Learn more at usa.kaspersky.com.
Media Contact:
Cassandra Faro
Cassandra.Faro@Kaspersky.com
781-503-1812
Kaspersky Research finds over a Third of Small Businesses Have Suffered a Data Breach so far in 2019
Kaspersky