August 22, 2019
Kaspersky Security for Microsoft Office 365 Now Protects OneDrive to Share and Store Files Safely
Kaspersky's Security for Microsoft Office 365 has expanded its protection capabilities from Exchange Online to OneDrive
Woburn, MA – August 22, 2019 – Kaspersky's Security for Microsoft Office 365 has expanded its protection capabilities from Exchange Online to now include a popular Microsoft storage service, OneDrive. The enhanced product prevents malware from infiltrating OneDrive and spreading across corporate networks through multiple layers of protection empowered with heuristic and behavioral analysis.
Due to the increased popularity of digital environments used by employees to collaborate, share and store corporate data, a dedicated layer of protection for cloud store is more necessary than ever. Cloud storage is becoming vulnerable as a transfer space for malware to be distributed across the whole organization, jeopardizing sensitive business data and overall workflow.
Kaspersky Security for Microsoft Office 365 with added protection for Microsoft OneDrive prevents such a scenario. Anti-malware protection for OneDrive includes signature-based detection combined with heuristic, behavioral analysis and the latest threat intelligence enabling the prevention of known and zero-day threats. It detects suspicious content held within storage and can immediately delete an infected file before has the opportunity to spread.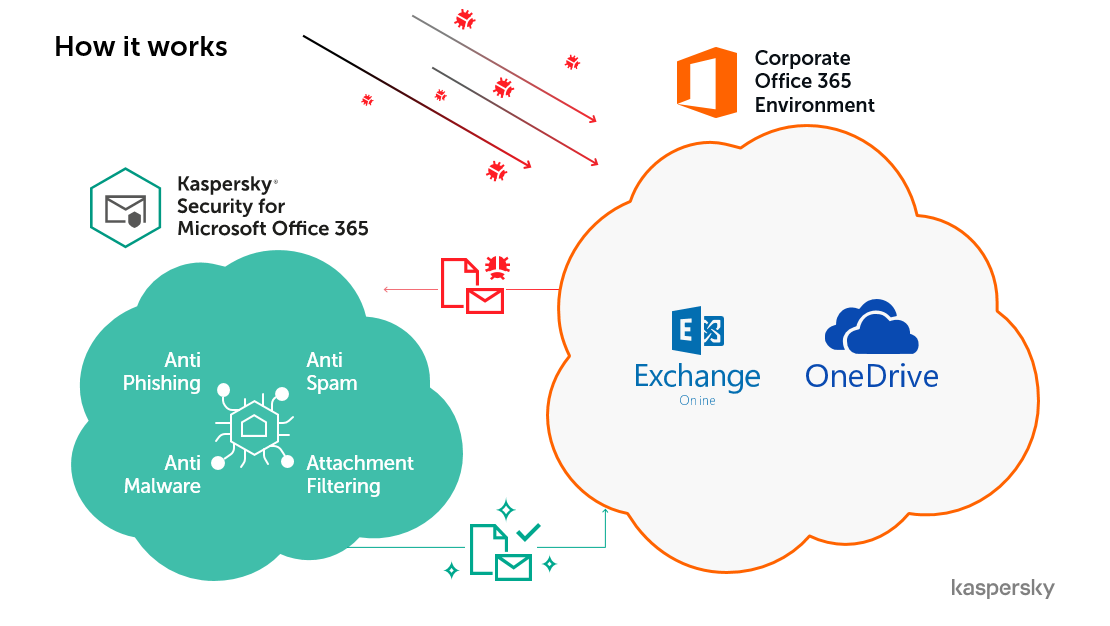 Kaspersky Security for Microsoft Office 365 protects both email — a potential transfer point for malware to enter the corporate network — and storage, through which threats can reach all users.
"Sharedstorage options such as OneDrive are popular and widely used business tools, but if employees can have instant and easy access to shared files, then so too can malware," said Sergey Martsynkyan, head of B2B product marketing at Kaspersky. "Businesses need to understand this risk and ensure they are not compromising their productivity due to cyber threats by protecting their data and workflows. Our product provides such protection for Microsoft Office 365 allowing companies to use its collaborative features and focus on day-to-day operations, rather than worrying about the security of their data."
For more information on Kaspersky Security for Microsoft Office 365 and to access a free trial, follow the link.
About Kaspersky
Kaspersky is a global cybersecurity company founded in 1997. Kaspersky's deep threat intelligence and security expertise is constantly transforming into innovative security solutions and services to protect businesses, critical infrastructure, governments and consumers around the globe. The company's comprehensive security portfolio includes leading endpoint protection and a number of specialized security solutions and services to fight sophisticated and evolving digital threats. Over 400 million users are protected by Kaspersky technologies and we help 270,000 corporate clients protect what matters most to them. Learn more at usa.kaspersky.com.
Media Contact:
Cassandra Faro
Cassandra.Faro@Kaspersky.com
781-503-1812
Kaspersky Security for Microsoft Office 365 Now Protects OneDrive to Share and Store Files Safely
Kaspersky
Kaspersky's Security for Microsoft Office 365 has expanded its protection capabilities from Exchange Online to OneDrive