Woburn, MA – December 14, 2017 – The number of new malicious files processed by Kaspersky Lab's in-lab detection technologies reached 360,000 a day in 2017, which is 11.5 percent more than the previous year. After a slight decrease in 2015, the number of malicious files detected every day is growing for the second year in the row.
The number of malicious files detected daily reflects the average activity of cybercriminals involved in the creation and distribution of malware. This figure was calculated for the first time in 2011, when the total equaled only 70,000. Since then, it has grown five-fold, and as the 2017 data shows, it is still increasing.
Most of the files identified as dangerous fall into the malware category (78 percent); however, viruses – whose prevalence significantly dropped 5-7 years ago, due to their complex development and low efficiency – still constitute 14 percent of daily detections. The remaining files are advertising software, which is not considered malicious by default but in many instances can cause private information exposure and other risks. Protection against this kind of threat is essential for a better user experience.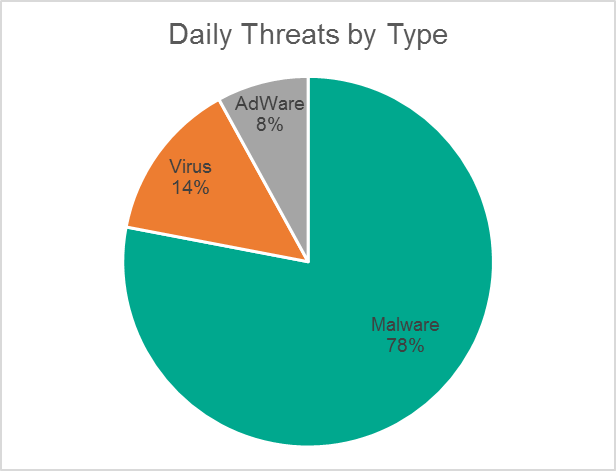 Approximately 20,000 of all dangerous files detected daily are identified by Astraea, the Kaspersky Lab machine-learning malware analysis system which automatically identifies and blocks malware.
"In 2015, we witnessed a visible drop in daily detections and started thinking that new malware could be less important for criminals, who may have instead shifted their attention towards reusing old malware. However, over the last two years, the number of new malware we discovered has been growing, which is a sign that interest in creating new malicious code has been revived," said Vyacheslav Zakorzhevsky, head of the anti-malware team at Kaspersky Lab. "The explosive increase in ransomware attacks over the last couple of years is only set to continue, as there is a huge criminal ecosystem behind this type of threat, producing hundreds of new samples every day. This year, we have also seen a spike in miners - a class of malware that cybercriminals have started to use actively, in light of the ongoing rise in cryptocurrencies. The reason for the increase in detections could also be attributed to the constant improvements we are making in our protection technologies. With every new upgrade, we can identify more malware than before and this could account for a rise in numbers."
Other annual threat statistic highlights of 2017 include:
Kaspersky Lab solutions prevented 1,188,728,338 attacks launched from online resources located across the world
Kaspersky Lab's web anti-virus solution detected 15,714,700 unique malicious objects
29.4 percent of user computers encountered an online malware attack at least once over the course of the year
22 percent of user computers were subjected to advertising programs and their components
In order to stay protected, Kaspersky Lab recommends the following:
Pay close attention to, and don't open any suspicious files or attachments received from unknown sources
Do not download and install applications from untrusted sources
Do not click on any links received from unknown sources and suspicious online advertisements
Create strong passwords and change them regularly
Always install updates – large ransomware outbreaks, such as WannaCry and ExPetr, proved that delays in patch installation can take months
Ignore messages asking to disable security systems for Office software or anti-virus software
Use a proper security solution appropriate for your system type and devices
Read more about annual threat statistics on Securelist.com.
Kaspersky Lab's "Number of the Year" is part of the Kaspersky Security Bulletin 2017, which also includes the "Story of the Year" and "Review of the Year." To learn more about threat predictions for 2018, please access our report and watch webinars on APT threat predictions as well as industry and technology predictions.
About Kaspersky Lab
Kaspersky Lab is a global cybersecurity company celebrating its 20 year anniversary in 2017. Kaspersky Lab's deep threat intelligence and security expertise is constantly transforming into next generation security solutions and services to protect businesses, critical infrastructure, governments and consumers around the globe. The company's comprehensive security portfolio includes leading endpoint protection and a number of specialized security solutions and services to fight sophisticated and evolving digital threats. Over 400 million users are protected by Kaspersky Lab technologies and we help 270,000 corporate clients protect what matters most to them. Learn more at www.kaspersky.com.
For the latest in-depth information on security threat issues and trends, please visit:
Securelist | Information about Viruses, Hackers and Spam
Follow @Securelist on Twitter

Threatpost | The First Stop for Security News
Follow @Threatpost on Twitter
Media Contact
Jessica Bettencourt
781.503.7851
Jessica.Bettencourt@kaspersky.com
Kaspersky Lab Number of the Year: 360,000 Malicious Files Detected Daily in 2017
Kaspersky
This year's number of new malicious files increased 11.5 percent from 2016