February 20, 2014
Kaspersky Lab Solutions Top Overall Test Rating for 2013
Kaspersky Lab Solutions Top Overall Test Rating for 2013
Woburn, MA – February 20, 2014 –Kaspersky Lab achieved a first place ranking in a TOP3 metric based test on solutions that performed consistently superior in independent testing throughout 2013. Kaspersky Lab's solutions were awarded first place in 41 out of 79 tests and in 20 of those tests the solutions secured a second or third place ranking. Overall, the solution's award-winning performance placed the Company among the top three in 77 percent of all tests, which was the best results among all the tested vendors.
The TOP3 score is based on data about anti-malware test results gathered by Kaspersky Lab from renowned independent test labs such as AV-Comparatives, AV-Test, Dennis Technology Labs, MRG Effitas, Virus Bulletin and magazines including PC Magazine and PCWorld.
Almost 100 security vendors participated in the tests throughout the year. The diversity of Kaspersky Lab solutions allowed the company to participate in the majority of independent tests and Kaspersky Lab's number of top-three finishes far exceeded that of its competitors.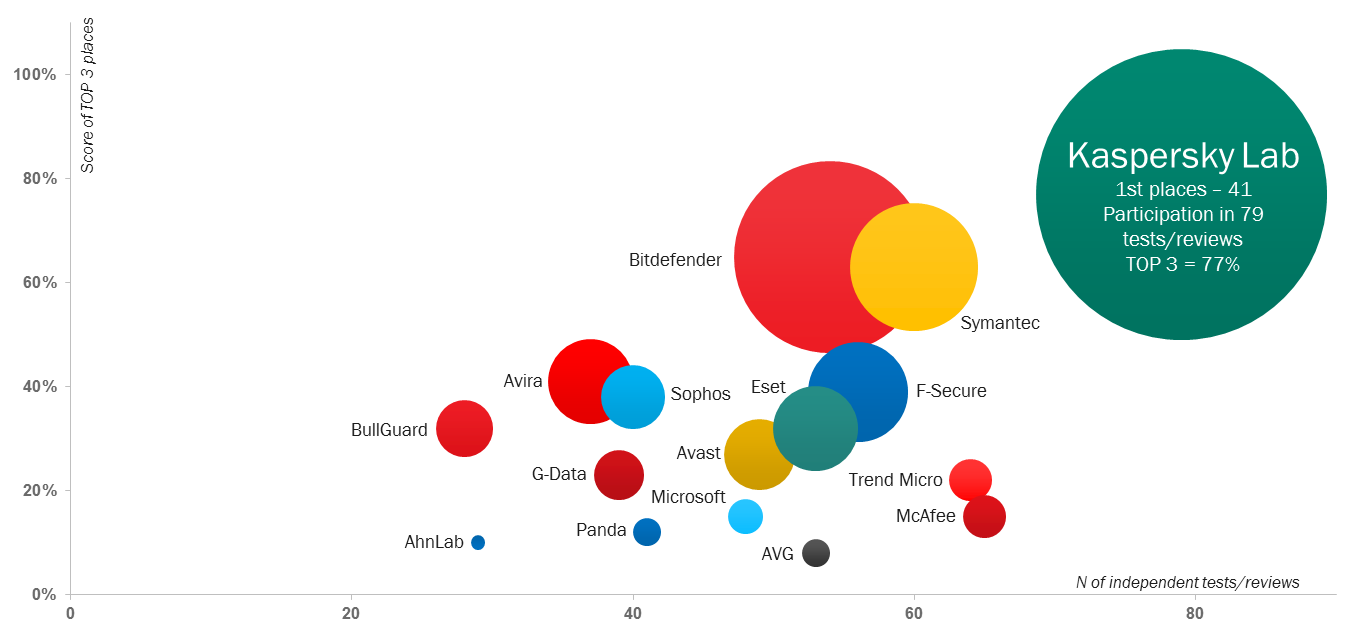 The tests make it possible to compare the different parameters that determine a security solution's quality of performance. In addition to a solution's ability to combat cyberattacks, the testers examined the impact on device performance, the level of protection against financial risks, and the ability to detect and patch vulnerabilities in software installed on the computer. Although in most cases the researchers assessed products on Windows OS, a number of tests assessed security solutions for Android-based platforms and Mac computers.
Quote:
Nikolay Grebennikov, Chief Technology Officer,
Kaspersky Lab
"Our expertise in the sphere of cyberthreats and our in-house technological innovations allow us to stay one step ahead of the competition. These independent test results confirm Kaspersky Lab's leading position in the security solution market. It means users of our products and technologies can be sure they are reliably protected from cybercriminals."
More information about the methodology used to calculate the TOP3 score is available at: http://media.kaspersky.com/en/business-security/TOP3_2013.pdf
About Kaspersky Lab
Kaspersky Lab is the world's largest privately held vendor of endpoint protection solutions. The company is ranked among the world's top four vendors of security solutions for endpoint users*. Throughout its more than 16-year history Kaspersky Lab has remained an innovator in IT security and provides effective digital security solutions for large enterprises, SMBs and consumers. Kaspersky Lab, with its holding company registered in the United Kingdom, currently operates in almost 200 countries and territories across the globe, providing protection for over 300 million users worldwide. Learn more atwww.kaspersky.com.
* The company was rated fourth in the IDC rating Worldwide Endpoint Security Revenue by Vendor, 2012. The rating was published in the IDC report "Worldwide Endpoint Security 2013–2017 Forecast and 2012 Vendor Shares (IDC #242618, August 2013). The report ranked software vendors according to earnings from sales of endpoint security solutions in 2012.
For the latest in-depth information on security threat issues and trends, please visit:
Securelist | Information about Viruses, Hackers and Spam
Follow @Securelist on Twitter

Threatpost | The First Stop for Security News
Follow @Threatpost on Twitter
Media Contact
Sarah Bergeron
781.503.2615
sarah.bergeron@kaspersky.com
Articles related to Press Releases
The New Daily Malware Count from Kaspersky Lab Decreases by 15,000 in 2015

>

Kaspersky Lab on business threats: 2015 saw the number of cryptolocker attacks double

>

DDoS attacks hit record peak - ZDNet

>