January 28, 2013
Kaspersky Lab Posts Results of Independent Testing Throughout 2012
Kaspersky Lab Posts Results of Independent Testing Throughout 2012
Woburn, MA –January 28, 2013 –Kaspersky Lab, a leading developer of security and threat management solutions, today announced its comparative testing results for 2012. Throughout the year, the company's corporate and consumer security solutions participated in over 70 different tests and studies by international research labs. In addition to assessing the core antivirus components, the independent experts evaluate the additional security technologies available in Kaspersky Lab's products. These additional layers of protection include some of the company's very latest developments, such as Automatic Exploit Prevention, Safe Money and Whitelisting.
The results of these tests were consistently outstanding: the company's solutions claimed first place in 30 comparative tests and on another 19 occasions received prestigious awards from the experts. These results show the high quality of Kaspersky Lab's security solutions and the company's readiness to confront the most complex IT threats facing users.






Quick Facts:
Throughout 2012, Kaspersky Lab's consumer products took part in over 50 independent tests, while corporate solutions participated in more than 20.
The company's corporate solutions claimed leading positions in two out of every three comparative tests, while consumer products came first in approximately half of all tests. Overall, the company's products came first 30 times in independent testing.
In 2012 Kaspersky Lab received 19 awards from respected test labs all over the world.
As well as excellent results in various malware detection tests, Kaspersky Lab's exclusive technologies such as Automatic Exploit Prevention (100% protection against the launch of malicious code in data files), Safe Money (100% protection for online payments) and Whitelisting (a high quality database of clean software) all performed impressively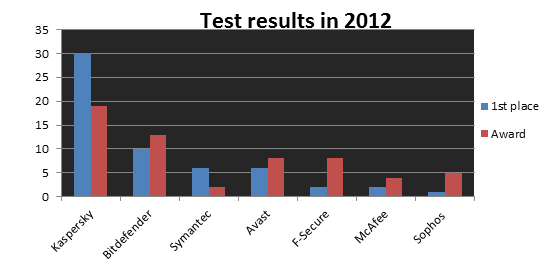 Kaspersky Lab has a great deal of respect for the specialists and their vast knowledge of modern cyber threats which is used to conduct truly independent tests. There are a number of labs whose research results the company trusts in particular:
Sample of test results:
QUOTES:
Nikolay Grebennikov, Chief Technology Officer
Kaspersky Lab
"We always seek to participate in independent tests conducted by reputable labs and take their results very seriously. It gives us the chance to better understand the strengths and weaknesses of our products, and enhance them still further. It also makes it possible to move the whole testing industry forward by developing methodologies for thetesting of exclusive non-malware technologies. The numerous prizes and awards demonstrate to our corporate and consumer customers that they made the right choice when they installed Kaspersky Lab's reliable protection solutions on their computers."
About Kaspersky Lab
Kaspersky Lab is the world's largest privately held vendor of endpoint protection solutions. The company is ranked among the world's top four vendors of security solutions for endpoint users*. Throughout its 15-year history Kaspersky Lab has remained an innovator in IT security and provides effective digital security solutions for consumers, SMBs and Enterprises. The company currently operates in almost 200 countries and territories across the globe, providing protection for over 300 million users worldwide. Learn more at www.kaspersky.com.
*The company was rated fourth in the IDC rating Worldwide Endpoint Security Revenue by Vendor, 2010. The rating was published in the IDC report Worldwide IT Security Products 2011-2015 Forecast and 2010 Vendor Shares – December 2011. The report ranked software vendors according to earnings from sales of endpoint security solutions in 2010.
For the latest in-depth information on security threat issues and trends, please visit:
Securelist | Information about Viruses, Hackers and Spam
Follow @Securelist on Twitter
Threatpost | The First Stop for Security News
Follow @Threatpost on Twitter
Articles related to Press Releases
The Threat Within: 3 Out Of 4 Companies Affected By Internal Information Security Incidents

>

Kaspersky Lab Report on Spam in Q3 2015: Spammers Exploit Tourists

>

Security in 2016: The death of advanced persistent threats - ZDNet

>