March 5, 2013
Kaspersky Lab Named SC Magazine's 2013 Excellence Award Winner for Best SME Security Solution
Kaspersky Lab Named SC Magazine's 2013 Excellence Award Winner for Best SME Security Solution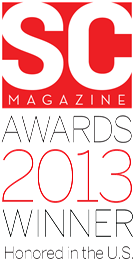 Woburn, MA – March 5, 2013 –Kaspersky Lab has been named the 2013 SC Magazine Awards Excellence Award winner for outstanding leadership and achievement in information security. Kaspersky Lab Endpoint Security for Business is recognized in the "Best SME Security Solution" category, which acknowledges companies with superior security products that help customers tackle today's most pressing information-technology (IT) challenges. The award was presented at the 16th annual SC Magazine Awards U.S. Ceremony held February 26, 2013 in San Francisco, in conjunction with the annual RSA Conference. The SC Magazine Awards are the security industry's most prestigious accolade, awarded only to the most impressive companies in the security industry.
The 2013 Excellence Award winners were chosen by a panel of esteemed security professionals from the private and public sector, hand-picked by SC Magazine's editorial team for their breadth of knowledge and experience in information security. Through this comprehensive analysis Kaspersky Lab, was determined as this year's winner in "Best SME Security Solution."
From the SC Magazine award announcement:
"The core challenge in today's environment isn't that there are no tools available, it's that each individual tool adds to the complexity users face when trying to implement security policies. Businesses need to reduce the number of tools used and number of consoles managed, so they can get back to focusing on their core business competencies."
"Kaspersky Lab features range from a ready-to-use template to granular policy controls, all of which help administrators customize Kaspersky Lab's solution to their own organizations' unique needs, thus simplifying the user experience while providing extensive security and management."
"Kaspersky Lab continues to make major investments in R&D to develop in-house new technologies to strengthen its portfolio. All its technologies are built from the same code base and work together seamlessly, not cobbled together on the backend. The result is solutions that are more efficient and easier to manage."
The SC Awards, now in its 16th year, are the clear global leader for information-technology security professionals and products that fend off the myriad security threats in today's corporate world. The annual awards showcase the best solutions, services and professionals while recognizing achievement and technical excellence. SC Magazine distinguishes the achievements of the security professionals in the field, the innovations happening in the vendor and service provider communities and the fervent work of government, commercial and nonprofits. For more information and a detailed list of categories and winners, please visit www.scmagazineus.com/awards.
QUOTES:
Steve Orenberg, President, North America
Kaspersky Lab
"This honor from one of the IT Security industry's most respected editorial organizations is a tremendous accomplishment, and is a significant milestone in the history of Kaspersky Lab. Our tireless team of security experts has worked hard to give our customers the very best combination of visibility, control, and protection, and this recognition from SC Magazine is the latest example of our hard work paying off. Kaspersky Lab will celebrate this win throughout 2013, and we're looking forward to defending our title in 2014."
Illena Armstrong, Vice President of Editorial
SC Magazine
"We're proud to acknowledge the achievements of Kaspersky Lab and their Kaspersky Endpoint Security for Business as the 2013 SC Award Excellence Awards winner. The cyber risks facing private and public sector are tremendous, but Kaspersky Lab is one of a select few facing this challenge head-on to fend off many would-be attacks."
About Kaspersky Lab
Kaspersky Lab is the world's largest privately held vendor of endpoint protection solutions. The company is ranked among the world's top four vendors of security solutions for endpoint users*. Throughout its more than 15-year history Kaspersky Lab has remained an innovator in IT security and provides effective digital security solutions for large enterprises, SMBs and consumers. Kaspersky Lab, with its holding company registered in the United Kingdom, currently operates in almost 200 countries and territories across the globe, providing protection for over 300 million users worldwide. Learn more at www.kaspersky.com.
* The company was rated fourth in the IDC rating Worldwide Endpoint Security Revenue by Vendor, 2011. The rating was published in the IDC report "Worldwide Endpoint Security 2012–2016 Forecast and 2011 Vendor Shares (IDC #235930, July 2012). The report ranked software vendors according to earnings from sales of endpoint security solutions in 2011.
For the latest in-depth information on security threat issues and trends, please visit:
Securelist | Information about Viruses, Hackers and Spam
Follow @Securelist on Twitter
Threatpost | The First Stop for Security News
Follow @Threatpost on Twitter
About SC Magazine
SC Magazine provides IT security professionals with in-depth and unbiased information through timely news, comprehensive analysis, cutting-edge features, contributions from thought leaders and the best, most extensive collection of product reviews in the business. By offering a consolidated view of IT security through independent product tests and well-researched editorial content that provides the contextual backdrop for how these IT security tools will address larger demands put on businesses today, SC Magazine enables IT security pros to make the right security decisions for their companies. The brand's portfolio includes the SC World Conference and Expo, SC Congress Canada, SC Magazine Awards, SC Directory, SC Magazine Newswire and SC Magazine IT Security Executives Forums.
Fan us on Facebook: http://www.facebook.com/SCMag
Follow us on Twitter: http://twitter.com/scmagazine
Articles related to Press Releases
A high proportion of people are connecting to unsecured Wi-Fi networks while traveling internationally, putting their personal data at risk.

>

If you're waiting for a friend, a colleague or even a doctor's appointment, how long do you think it takes before you check your phone – two minutes? Three?

>

Kaspersky Lab announced today that it will continue to work with the Archeological Society at Athens (ASA) to further explore the remains of a historic Cycladic/Minoan settlement in Akrotiri, Greece

>