December 21, 2011
Kaspersky ONE Transantarctic Expedition's Felicity Aston Reaches South Pole!
Kaspersky ONE Transantarctic Expedition's Felicity Aston Reaches South Pole!
December 21, 2011, Woburn, MA - Kaspersky Lab, a leading developer of secure content and threat management solutions, announces that on December 20 accomplished British explorer Felicity Aston reached the South Pole. The Kaspersky ONE Transantarctic Expedition, which began at the Ross Ice Shelf on November 25, 2011, has successfully reached the end of its first significant leg.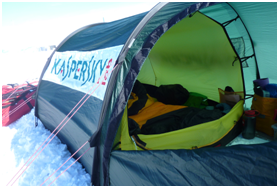 Having crossed the Transantarctic Mountains, Felicity decided to take a route through the Leverett Glacier, an uncharted route, never skied before by a person. After a short rest at the camp at the South Pole, she will continue on her way across the Polar Plateau to the Ronne Ice Shelf toward the opposite coast of Antarctica.
Commenting on her arrival, Felicity said: "The South Pole isn't my destination this time; it's just a check point on my journey. But I'm nevertheless really happy to have reached it! I've made the journey from the coast of Antarctica to the South Pole by myself, and this in itself will always be a personal achievement I can be proud of. So I'd like to say a big thank you to everyone who helped this project become reality."
Felicity's 1,700km journey across Antarctica will continue for over a month, to last a total of approximately 60 days. With Kaspersky Lab's support, she will become the first woman in history to cross Antarctica alone.
Felicity has already been to the South Pole: back in 2009 she led the Kaspersky Lab Commonwealth Antarctic Expedition there from the coast of Antarctica. After this successful project, also supported by Kaspersky Lab, Felicity became a frequent guest at various Kaspersky Lab events around the world and came to be treated as a member of the team. That's why Kaspersky Lab was happy to sponsor Felicity's latest project: the courageous Kaspersky ONE Transantarctic Expedition.
More information about the Kaspersky ONE Transantarctic Expedition can be found at http://transantarctic.kaspersky.com, and on Facebook at www.facebook.com/Kaspersky. View the video documenting Felicity's preparation for her expedition at: http://youtu.be/xOYIq1V4woQ.
* Kaspersky ONE is a multi-platform universal security solution providing comprehensive protection for today's wide range of personal devices, starting from personal computers and notebooks and all the way to smartphones and tablets. Based on the new "user-centric" approach, it allows a user to protect all devices that he or she owns in a simple and efficient way. Kaspersky ONE ensures security of your personal data on Windows-based PCs and laptops, Macs, smartphones and Android-based tablets.
Quotes
Eugene Kaspersky, Chairman and CEO
Kaspersky Lab
"I'm so happy to congratulate Felicity on her arrival at the South Pole! Felicity is a great achiever and fighter. On her journey she has to overcome the threats of the Antarctic environment day after day. This is why we are proud to support Felicity! At Kaspersky Lab we also fight threats - in our case those in the digital environment, like cybercrime. We wish Felicity the best of luck on her onward journey."
About Kaspersky Lab
Kaspersky Lab is the world's largest privately-held Internet Security company, providing comprehensive protection against all forms of IT threats such as viruses, spyware, hackers and spam. The company's products provide in-depth computer defense for more than 300 million systems around the globe, including home and mobile users, small and medium sized businesses and large enterprises. Kaspersky technology is also incorporated inside the products and services of nearly 100 of industry leading IT, networking, communications and applications solution vendors.
For further information about the company, please visit http://www.kaspersky.com/. For the latest in-depth information on security threat issues and trends, please visit http://www.securelist.com/. Follow @Securelist on Twitter. For the most up-to-date world security news, visit http://www.threatpost.com/.
Related Press Releases Articles
"Kaspersky Lab's subsidiary, Kaspersky Government Security Solutions (now KGSS Inc.), paid Gen. Flynn a speaker fee for remarks at the 2015 Government Cybersecurity Forum in Washington, DC, which brought together leading government, military, technology and policy experts to discuss the challenges and solutions for cybersecurity threats facing the government and related industries.

Learn more >

Today, Kaspersky Lab has released Kaspersky Fraud Prevention Cloud, a new solution for organizations facing risks from fraudulent activity as a result of fast-growing online services.

Learn more >

Kaspersky Lab North America today announced its sponsorship of The Windham Windup -- Team 3467 in the FIRST® Robotics Competition, an international high school robotics competition.

Learn more >