If Kaspersky is saying "Status: expired" or "The updated subscription key is missing"
Your Kaspersky subscription is managed directly from Geek Squad and updated automatically. If you see this error message in your application, it implies that your internet connection was not live when trying to update the license information. You can manually update the subscription status yourself by following the steps below.
Open Kaspersky.
Click on Manage License at the bottom right corner of the window.
Click on Update Subscription Status.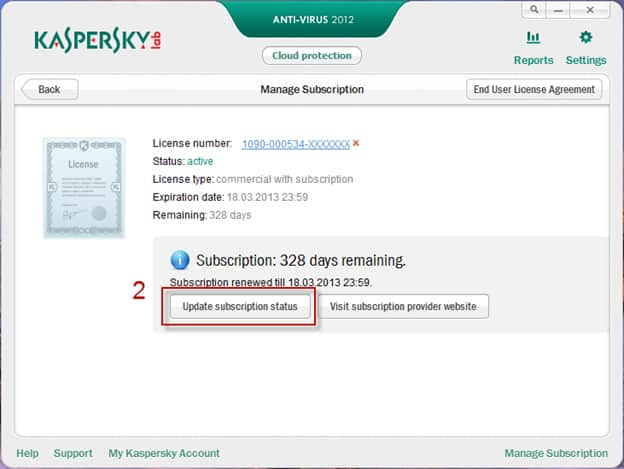 Activation error. The updated subscription key is missing
1. Causes of the error
The causes of the "The updated subscription key is missing" error might be the following:
The application was purchased via the subscription service of your Internet provider and your subscription has expired or was suspended. You may be trying to renew the subscription status by clicking on "Renew subscription status", but no updated subscription key is available when your subscription expired or was suspended.
You have a valid, non-expired subscription and are trying to check your subscription status (just to be on the safe side).
If Kaspersky Download Manager is installed on the computer.
2. Solution
In order to resolve the problem, perform the following actions:
Check whether the system date is correct. Set the calendar date if the system date is incorrect.
Click the Renew subscription status button.
If Kaspersky Internet Security indicates that it is not activated and you would like to continue use of the software or need help with any subscription questions, please contact your subscription provider for more information.