National Cybersecurity Awareness Month is in full-swing and it is a great time of year to analyze your level of cyber security. In North America, about 108 million people use the Internet, and users are accessing the Internet from all types of devices, in all types of locations. Cybercriminals are aware of the situation and are taking advantage of the lack of security precautions taken by Americans.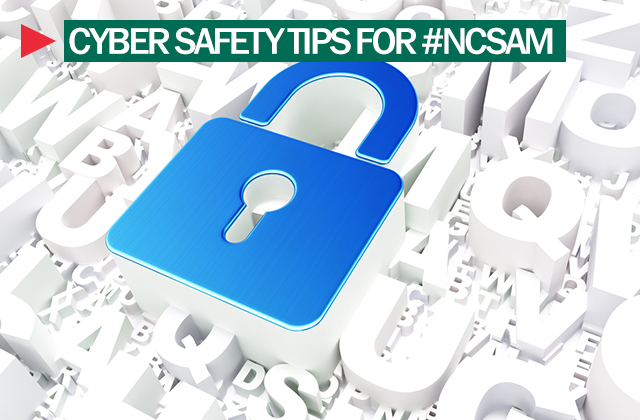 "Doing our part as consumers to share the responsibility of cybersecurity protection means being aware of this risk and understanding that we're all connecting to the same Internet, whether it's on a PC, cellphone, tablet or Mac. Ensuring your safety when using the Internet should be top priority this month and beyond," said Ann Biddlecom, Senior Director, Consumer Marketing, Kaspersky Lab.
Below are common practices of Internet users and ways to keep your devices and sensitive information secure.
Public Wi-Fi
With the proliferation of mobile devices, more users are connecting to public Wi-Fi hotspots. The question is, are they being safe? According to a recent Consumer Security Risks survey conducted by Kaspersky Lab and B2B International, 34% of participants take no additional security measures when connecting to public Wi-Fi. Unfortunately, cybercriminals know this and have been known to take advantage of public Wi-Fi, most commonly through man-in-the-middle attacks.
According to a recent Consumer Security Risks survey conducted by Kaspersky Lab and B2B International, 34% of participants take no additional security measures when connecting to public Wi-Fi.
What can you do? When using public Wi-Fi, it's important to take additional security measures. Kaspersky Lab recommends only using secure connections to access points. When consumers are planning to use websites that require personal information, such as usernames and passwords, this basic precaution must be coupled with additional protective tools.
Online Banking/Shopping Online
As consumers use online banking and credit card accounts online, they become the main target for online banking theft—it's easier to target the user than it is to target the organization. Banking Trojans have been popular in the criminal market for several years. The huge number of potential victims who do not keep applications on their computers up-to-date gives enormous opportunities to cybercriminals. A Trojan infects a workstation and independently collects payment information; some are even capable of conducting financial transactions on behalf of users.
What can you do? Use comprehensive security solutions when banking and shopping online. The Safe Money technology from Kaspersky Lab provides comprehensive protection for online banking and payment transactions. The technology ensures that a website is secure and that customers are not being tricked by a "fake" or phishing website. It also offers to open a website in a protected mode, keeping customer credit card numbers and other personal data safe from cybercriminals. Safe Money is available in Kaspersky Internet Security.
Unprotected Mobile Devices
As mobile devices and operating systems continue to increase in adoption and usage among consumers, cybercriminals are increasingly focused on mobile platforms. According to Kaspersky Lab research, 99 percent of current malware samples targeting mobile devices are developed for the Android platform. This threat is also growing: in 2012 Kaspersky Lab specialists detected 35,000 malicious samples, while in just the first half of 2013 the amount detected was over 47,000.
Unfortunately, users aren't protecting their devices. According to a recent survey conducted by Kaspersky Lab and B2B International in the summer of 2013, over 50 percent of Android-based smartphone and tablet owners do not use any security software to protect their devices against cyber-threats.
What can you do? In order to protect your devices, we recommend using a security solution. Kaspersky Internet Security for Android is an advanced solution to safeguard smartphones and tablets running Android. The solution uses the latest antivirus technologies and delivers real-time updates via the cloud-based Kaspersky Security Network for fast reaction to new and emerging threats. It can detect and block dangerous and malicious websites, including fraudulent and phishing websites that aim to steal a person's identity or finances.
If a mobile device is lost or stolen, Kaspersky Internet Security for Android has a number of features that help minimize the risk of valuable, personal information being lost along with the device itself. Features that can locate the device with GPS, Wi-Fi and Google Maps, remotely wipe all personal information from the device, and even secretly take a "mugshot" of the thief by activating the front-facing camera on the phone.