June 5, 2013
Kaspersky Lab Finds Social Networks are the Most Dangerous Virtual 'Playground' for Children
Kaspersky Lab Finds Social Networks are the Most Dangerous Virtual 'Playground' for Children
Woburn, MA –June 5, 2013 -Kaspersky Lab today announced the results of its Parental Control data analysis which found that, during May 2013, the Parental Controls within Kaspersky Lab's products registered more than 52 million attempts to visit social networks, and more than 25 million attempts to access pornographic sites. The analysis, which was completed throughout the first five months of 2013, also showed that online stores were other popular destinations frequently accessed.
Families today tend to own multiple devices that can access the Internet, which means it's easier than ever for kids to get online. According to research by B2B International conducted in April 2013 for Kaspersky Lab, each family owns two or three PCs or laptops (2.5 devices is the worldwide average), one or two smartphones (1.4 on average) and one tablet (0.7 on average).
To help manage the increased online presence of children, Kaspersky Lab offers a range of Parental Controls in its products, which helps parents safeguard their children from the hidden dangers of uncontrolled use of computers and the Internet. By analyzing the statistics generated by its Parental Control technologies worldwide in the first five months of 2013, Kaspersky Lab found that the following potentially dangerous resources are most attractive for children in the Internet:
Social networks (31.26%)
Pornographic and erotic websites (16.83%)
Online stores (16.65%)
Chats and forums (8.09%)
Web-mail (7.39%); resources containing illegal software (3.77%)
Casual games (3.19%)
Other inappropriate resources such as websites about weapons or drugs, gambling websites and e-payment systems etc. – represented about 0.8-2% of web searchers monitored by Kaspersky Lab's Parental Control technologies.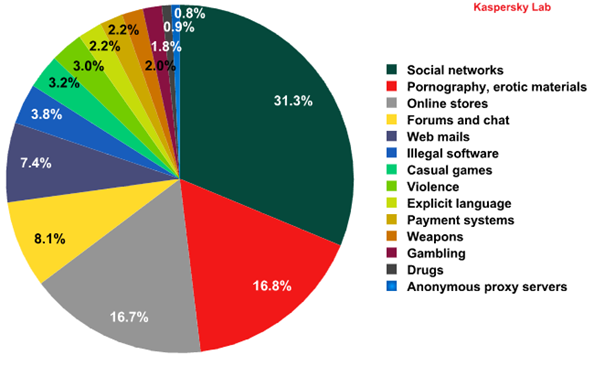 The websites which were most popular with children, January – May 2013
In addition, the data showed that children's preferences vary from country to country. In the USA, the "Pornography" category leads the pack with 22.02%; online stores are in second place with 19.50%; followed by social networks with 18.88%.
Similar results were found in the UK, where the top three categories are exactly the same: pornography sites (23.27%), online stores (19.59%), and social networks (16.14%). One noteworthy fact is that children in the UK prefer casual games (5.94%) to chats and forums (4.84%).
In Germany, the children are the most likely to seek out online pornography (25.66%) more than online stores (20.68%) and social networks (18.29%). While in Brazil, the results were the most similar to the overall global trends with social networks (22.34%) leading the pack, followed by pornographic sites (18.91%) and online stores (16.76%). Interestingly, the situation in Japan has nothing in common with other countries. The younger generation in this country tends to mostly look for sites in the "chats and forums" category (34.25%) over all others.
Quotes:
Konstantin Ignatyev, Web Content Analysts Group Manager
Kaspersky Lab
"As always, prevention is better than a cure. This is the principle that our Parental Control technology follows. In the modern world, access to any type of information has become easier than ever before. At the same time, children are especially vulnerable, and their outlooks are by nature naïve. Therefore, tools to protect children from inappropriate web content should become obligatory. In Kaspersky Lab's products, Parental Control features are integrated into the newest protection technologies, so users receive a comprehensive solution which ensures a secure online experience for children and at the same time prevents possible infections, attacks and other online threats."
Leading Parental Controls included in software products can help parents shield their children from unwanted content in a tactful and intelligent manner, without completely blocking access to the Internet. Using simple tools, parents can configure protection features to meet their needs and the needs of their children. In particular, Kaspersky Lab's Parental Controls allows parents to restrict access to specific sites and programs, or to the entire categories of websites, such as all gambling websites. Similarly, parents can set timetables for their children's computer use: the computer simply won't switch on outside of these established timeframes, so children won't be distracted from their homework or be able to access the Internet when parents are not at home.
Kaspersky Lab's Parental Control technology features are available in the following Kaspersky Lab products:
Kaspersky Lab has also released dedicated applications for smartphones and Tablet PCs in response to their huge popularity with youngsters: Parental Control (Safe Browser) for iOS and Parental Control for Android. These applications can be downloaded from official app stores for the appropriate mobile platforms.
The full version of the article "What are children doing online?" can be viewed at securelist.com
About Kaspersky Lab
Kaspersky Lab is the world's largest privately held vendor of endpoint protection solutions. The company is ranked among the world's top four vendors of security solutions for endpoint users*. Throughout its more than 15-year history Kaspersky Lab has remained an innovator in IT security and provides effective digital security solutions for large enterprises, SMBs and consumers. Kaspersky Lab, with its holding company registered in the United Kingdom, currently operates in almost 200 countries and territories across the globe, providing protection for over 300 million users worldwide. Learn more at www.kaspersky.com.
* The company was rated fourth in the IDC rating Worldwide Endpoint Security Revenue by Vendor, 2011. The rating was published in the IDC report "Worldwide Endpoint Security 2012–2016 Forecast and 2011 Vendor Shares (IDC #235930, July 2012). The report ranked software vendors according to earnings from sales of endpoint security solutions in 2011.
For the latest in-depth information on security threat issues and trends, please visit:
Securelist | Information about Viruses, Hackers and Spam
Follow @Securelist on Twitter

Threatpost | The First Stop for Security News
Follow @Threatpost on Twitter


Media Contact
Sarah Bergeron
781.503.2615
sarah.bergeron@kaspersky.com
Articles related to Press Releases
Kaspersky Lab Security Bulletin for 2015 shows mobile banking threats among the leading malicious financial programs for the first time

>

Top 15 security predictions for 2016 - CSO

>

The Internet of Toys - Infromation Security Buzz

>