January 28, 2013
Kaspersky Endpoint Security 8 Is Absolute Leader in New AV-Test Research
Kaspersky Endpoint Security 8 Is Absolute Leader in New AV-Test Research
Kaspersky Lab's corporate and consumer solutions produce excellent results in AV-Test's November-December testing
Woburn, MA –January 28, 2013 –Kaspersky Lab, a leading developer of security and threat management solutions, swept aside its rivals in AV-Test's November-December 2012 testing as Kaspersky Endpoint Security 8 won the crown for best corporate product. In the same study, Kaspersky Internet Security 2013 was named the second strongest consumer product on the market, as Kaspersky Lab finished 2012 with another stellar performance in independent testing.
Quick Facts:
In November and December 2012, the independent AV-Test lab conducted comprehensive testing of corporate and consumer security products
Testing included eight corporate products and 25 consumer solutions from the world's leading vendors
The tests covered three categories with AV-Test specialists evaluating protection against current threats, ability to clean an infected system, and usability
The results saw Kaspersky Endpoint Security 8 hailed as the absolute leader among all corporate solutions having outstripped its main competitors by a wide margin. Kaspersky Internet Security 2013 took second place among consumer solutions.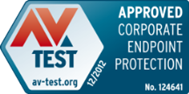 Test Results:
Kaspersky Endpoint Security 8 earned 15.5 points out of a possible 18, taking first place in the overall standings well ahead of the competition, as the solution in second place scored 13.5 points. It was in the Repair section that Kaspersky Endpoint Security 8 demonstrated an especially impressive result, detecting all threats that were present in the system and collecting the full complement of 6 points – an achievement that no competitor could match.
In testing for consumer solutions Kaspersky Internet Security 2013 collected 16 points, just half a point behind the leader. The Kaspersky Lab product detected every widespread threat it encountered. In addition, Kaspersky Internet Security 2013 detected all malware on the test computer in the clean-up test, and deleted the vast majority of dangerous objects.

All in all, Kaspersky Lab's solutions, from both the corporate and consumer class, once again delivered a powerful performance and successfully passed the final AV-Test certification of 2012.
How the Tests Were Performed:
AV-Test experts prepared a number of tests in three distinct categories: protection from current threats (Protection), the ability to clean an infected system (Repair) and user-friendliness (Usability). All tests were conducted on computers with 64-bit Windows 7 Service Pack 1 installed.
In the first round of tests, the test lab specialists simulated attacks on the computer by opening suspicious attachments, visiting infected sites or copying malicious files from external devices. The installed security solution had to detect and block all threats.
The second group of tests was conducted on an operating system that had previously been infected and contained 43 different malicious objects. The security products had to detect the threats, delete active malware components and eliminate all traces of infection from the system.
The last stage of testing analyzed how each security solution affected the system's performance. In this section AV-Test's experts also checked for false positives while installing legitimate programs and running a full system scan
QUOTES:
Oleg Ishanov, Head of Anti-Malware Research
Kaspersky Lab
"This is not the first time Kaspersky Lab's consumer and corporate solutions have finished among the leaders in independent testing by AV-Test. We are especially pleased that Kaspersky Endpoint Security 8 received full marks in the complex and important Repair tests in the latest study. This indicates the Kaspersky Lab product can cope perfectly well even when malware has already penetrated the user's computer, and successfully eliminates all traces of the infection in the system, thus satisfying the most demanding requirements presented by the customers of security products."
About Kaspersky Lab
Kaspersky Lab is the world's largest privately held vendor of endpoint protection solutions. The company is ranked among the world's top four vendors of security solutions for endpoint users*. Throughout its 15-year history Kaspersky Lab has remained an innovator in IT security and provides effective digital security solutions for consumers, SMBs and Enterprises. The company currently operates in almost 200 countries and territories across the globe, providing protection for over 300 million users worldwide. Learn more at www.kaspersky.com.
* The company was rated fourth in the IDC rating Worldwide Endpoint Security Revenue by Vendor, 2010. The rating was published in the IDC report Worldwide IT Security Products 2011-2015 Forecast and 2010 Vendor Shares – December 2011. The report ranked software vendors according to earnings from sales of endpoint security solutions in 2010.
For the latest in-depth information on security threat issues and trends, please visit:
Securelist | Information about Viruses, Hackers and Spam
Follow @Securelist on Twitter
Threatpost | The First Stop for Security News
Follow @Threatpost on Twitter
Related Press Releases Articles
Kaspersky Lab today announced the release of a new version of Kaspersky Endpoint Security for Business, the company's flagship corporate security solution for the constantly evolving cyberthreat landscape.

Learn more >

Woburn, MA – April 20, 2017 – Today Kaspersky Lab announced the key findings of its "Attacks with Exploits: From Everyday Threats to Targeted Campaigns" report, which found 702 million attempts to launch an exploit in 2016.

Learn more >

The Company identifies close to 9,000 C2 servers and hundreds of compromised websites, including government portals

Learn more >