September 19, 2012
Kaspersky Lab Home and Business Internet Security Software Outscores Competition in Latest Independent Tests
Kaspersky Lab Home and Business Internet Security Software Outscores Competition in Latest Independent Tests
Woburn, MA – September 19, 2012 –Kaspersky Lab, a leading developer of security and threat management solutions, has once again earned the top scores in the latest round of tests conducted by AV-TEST.org. The latest round of testing included separate categories for consumer security software and business security software, and Kaspersky Lab's solutions out-scored all competitors in both categories.

In the consumer security category, Kaspersky Internet Security out-performed 22 other security software suites, earning 17 out of a possible 18 points. In the sub-categories of this test, Kaspersky Internet Security posted a flawless 100 percent score in the removal of active infections, a 97 percent detection rate for targeted malware, and 100 percent detection for widespread malware.
For corportions and small businesses, Kaspersky Endpoint Security 8 for Windows was compared to seven other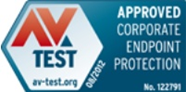 business-grade security solutions, earning 16 out of a possible 18 points. Like its consumer counterpart, Kaspersky Endpoint Security 8 for Windows also successfully removed 100 percent of active malware on infected machines. When testing detection capabilities, AV-TEST.org reported Kaspersky Endpoint Security 8 for Windows posted a detection rate of over 97 percent of targeted, "real-world" malware and a flawless 100% performance when detecting widespread malware. Kaspersky Endpoint Security 8 for Windows placed a full point higher than its next closest rival.
AV-TEST.org is a leading international and independent service provider in the fields of IT security and anti-virus research. Headquartered in Germany, the AV-TEST.org employs 25 IT specialists to provide optimal testing conditions and measure key security factors that matter the most to modern businesses and individual users alike.
Detailed results of the AV-TEST.org July/August evaluations are available here:
About Kaspersky Lab
Kaspersky Lab is the world's largest privately held vendor of endpoint protection solutions. The company is ranked among the world's top four vendors of security solutions for endpoint users*. Throughout its 15-year history Kaspersky Lab has remained an innovator in IT security and provides effective digital security solutions for consumers, SMBs and Enterprises. The company currently operates in almost 200 countries and territories across the globe, providing protection for over 300 million users worldwide. Learn more at www.kaspersky.com.
*The company was rated fourth in the IDC rating Worldwide Endpoint Security Revenue by Vendor, 2010. The rating was published in the IDC report Worldwide IT Security Products 2011-2015 Forecast and 2010 Vendor Shares – December 2011. The report ranked software vendors according to earnings from sales of endpoint security solutions in 2010.
For the latest in-depth information on security threat issues and trends:
Securelist | Information about Viruses, Hackers and Spam. Follow @Securelist on Twitter.
For the most up-to-date world security news: Threatpost | The First Stop for Security News
Articles related to Press Releases
Kaspersky Lab Looks Back on Cyber Security in 2015

>

Kaspersky Lab Empowers ICS Operators with Adaptive Information Security

>

Infamous Cyber-Espionage Group Sofacy Resurfaces with New Malicious Tools

>